This morning the biggest fight of the decade took place at the MGM Grand Arena in Las Vegas – Floyd Mayweather vs Manny Pacquiao – with Mayweather remaining the undefeated champion...
Following twelve rounds of boxing, one of the biggest fights of the decade concluded as many expected – with Mayweather winning via a unanimous decision and judges turning in scores of 118-110, 116-112 and 116-112. The crowd booed as Mayweather gave his winning speech, saying: "I take my hat off to Manny Pacquiao. I see now why he is at the pinnacle of boxing," adding, "I knew he was going to push me, win some rounds. I wasn't being hit with a lot of shots until I sit in a pocket and he landed a lot of shots."
The win made Mayweather at least $180 million making it the richest fight in boxing history. But many felt that the undefeated champion didn't perform like a winner, and the fight was largely cautious, with no knockdowns and neither fighter badly hurt. 
"I thought I won the fight, he didn't do anything." Pacquiao, who will make approximately $120 million from the match said. "I got him many times with a lot of punches."
One of the biggest boxing matches of all time, the fight was five years in the making, with many of the world's biggest celebrities in attendance, and ringside seats going for $40k plus. Mayweather also announced that despite winning the richest fight in world history, he will still compete in September with a yet-to-be-determined fellow boxer, before retiring for good.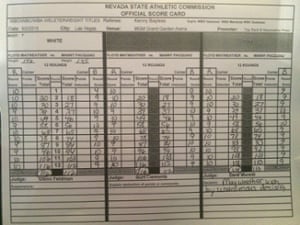 The three official score cards from the judges