It's been a very busy week for luxury French maison Chanel who, on October 8th, celebrated the long-anticipated structural completion of Le 19M, the 25,000m2 building complex that is destined to bring all of Chanel's Métiers d'art together under one roof.
Held in the presence of Bruno Pavlovsky, President of Chanek Fashion and President of Chanel SAS and Frédéric Hocquard, the Deputy Mayor of Paris, the ceremony celebrated the  ambitious project set to preserve and develop the savoir-faire of the Métiers d'art that was begun in 1985. "Our goal is to maintain and develop the exceptional heritage of the Métiers d'art, at the crossroads of Paris's cultural influence and the societal issues of fashion," explains Bruno Pavlovsky.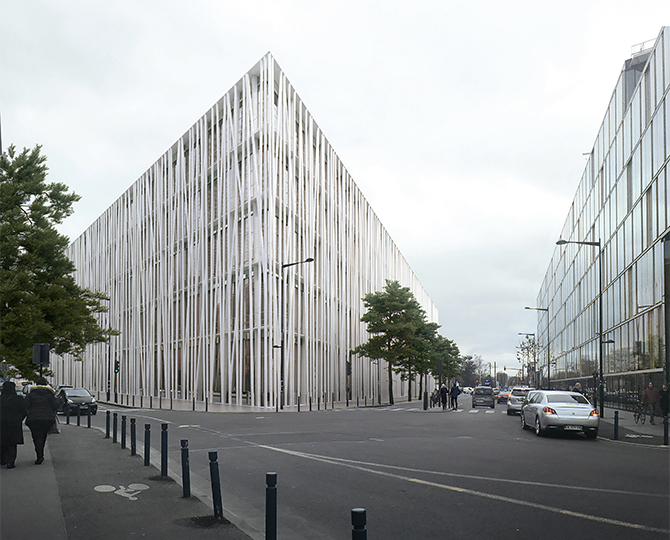 Built on 9,000m2 of land at the Porte d'Aubervilliers and designed by architect Rudy Ricciotti, winner of the Grand Prix National de l'architecture, Le 19M will house six hundred people in total once complete; this includes 10 specialist houses that operate within Chanel's Paraffection division, a subsidiary of the brand established in 1997 to preserve and promote the heritage, craft and manufacturing skills of fashion artisan workshops.
This group of French companies includes expert suppliers, some dating back as far back as the mid-19th century, with names such as embroiderer Lesage, shoemaker Massaro, feather and flower expert Lemarié as well as hatter and milliner Maison Michel and newly added Eres, the lingerie and swimwear reference brand. This grand move by Chanel aims at ensuring that these prestigious names will be free to express their exceptional know-how and creativity, all while remaining close to the Creation studio at Chanel.
A veritable bridge between tradition and innovation, Le 19M will also boast a multidisciplinary and open ecosystem, where the highest quality environmental considerations will be taken into account regarding the building's structure as well as architecture.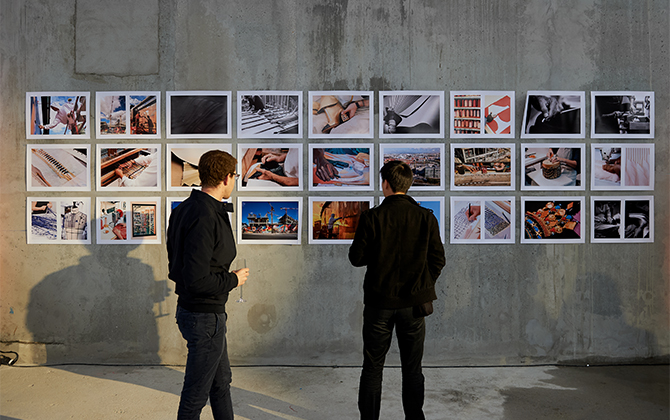 The hub will also promote both energy efficiency and biodiversity, with a plan to be awarded the most demanding environmental certificates and labels in the industry throughout the next year of its completion.
A building full of life, open to the world and the public, its name reflecting the very same vocation; M for the words Mains (Hands), Mode (Fashion), Métier (Craftsmanship), and 19 for the Parisian arrondissement that welcomes it.
To illustrate the activities of the future Le 19M, Chanel has tapped German mural artist, Case Maclaim, to cover the 650m2 of wall surrounding the building site with a fresco that pays tribute to the savoir-faire of the artisans of the French maison.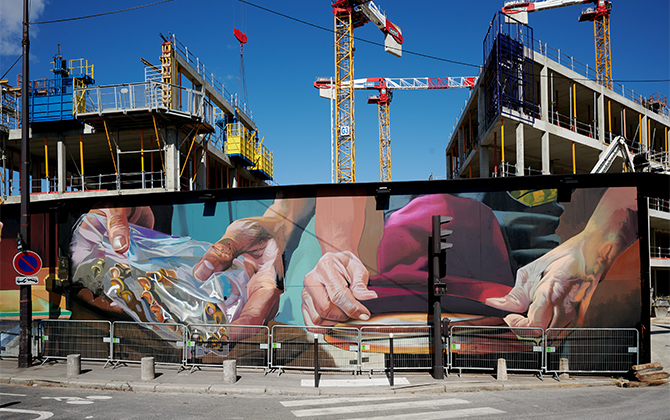 Now, check out Raymond Pettibon latest accessories collection for Dior Homme.
Text by Dina Kabbani