It's the most wonderful time of the year and whilst, yes, the holidays are four months away (how is it almost 2020?!), we're instead, talking about Fashion Month. In case you didn't know, just take a quick scroll through your Instagram feeds and immediately, it'll be clear as to where we are on the fashion calendar.
The Big Apple is kicking off the first string of shows for the Spring/Summer 2020 season and as usual, we're breaking down the many looks to love and take on board for the next season.
Here are our favourite looks from day one and two of New York Fashion Week…
LONGCHAMP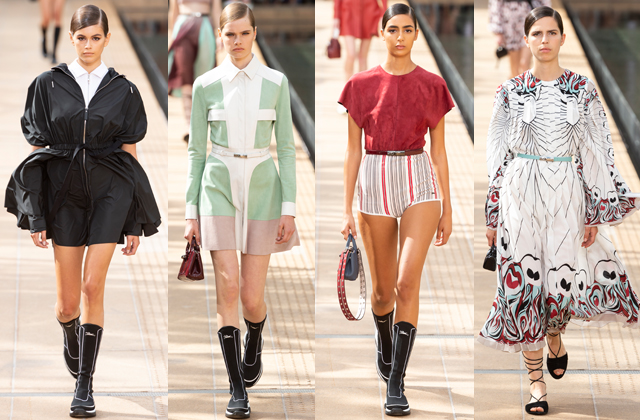 What you need to know: A mix between sporty and feminine elements merged in Longchamp's new runway collection as it lightened the runway at Hearst Plaza, Lincoln Center. Creative Director, Sophie Delafontaine, brilliantly added a touch of hippie chic with a dusk-to-dawn colour palette, soft prints and free-flowing silhouettes, adding a refreshing new direction for the brand.
Show-stopping shoes: During the show, key looks from Longchamp's collection included two iconic fabrics the maison are recognised for: leather and nylon. And most of the looks were accessorised with "knitted boxing shoes" (as seen on Kaia Geber and Nora Attal) that seem as comfortable as they look — think sneaker meets stocking boots.
BRANDON MAXWELL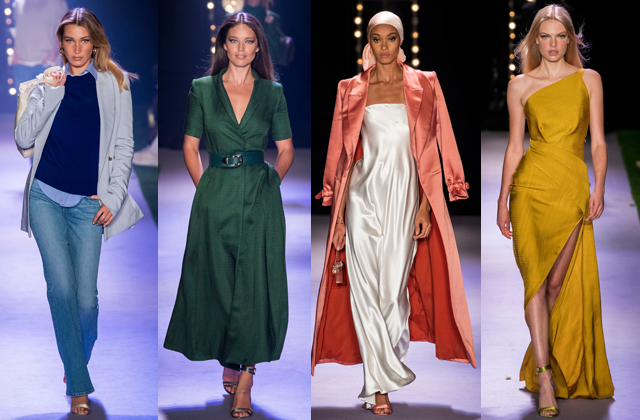 What you need to know: Brandon Maxwell has always been known for sending a slew of colourful gowns down the runway and for his latest S/S 2020 showcase, it was no different. Monochrome ankle-length dresses, high slits, silky fabrics and simplicity dominated the collection, as it moved in fluidity on the runway.
Daywear dreaming: In addition to the designer's signature gowns, this runway collection included an emphasis on daywear, as there was a heavy focus on denim, blouson button-downs, blazers and short skirts.
RALPH LAUREN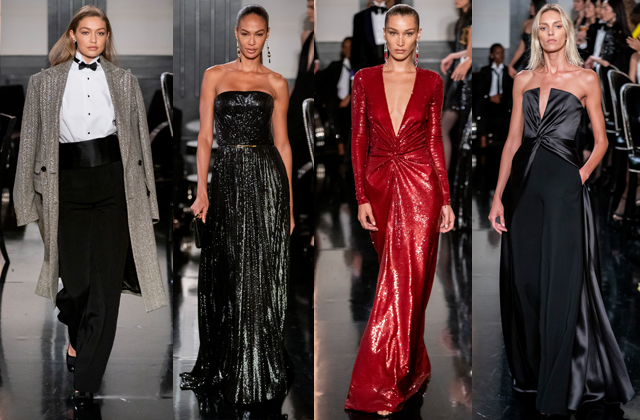 What you need to know: It was a black and white affair at the Ralph Lauren show (quite literally) as the designer reimagined a cinematic world with his latest Fall/Winter '19 runway show. First, Hollywood took over his front row to witness fine tailoring unfold, well, not on the runway but across what was known as "Ralph's Club," the ballroom on Wall Street. Familiar faces including Gigi and Bella Hadid, Taylor Hill, Diana Silvers and Joan Smalls were amongst those who fronted the collection — think tuxedo jackets, dresses, crisp white shirts and show-stopping sequined gowns.
Our favourite look: Perhaps our favourite look of the evening was Janelle Monae as she took to the stage in five-inch platform heels, a halter-neck tuxedo dress, which came complete with tulle and a plaid skirt.
To stay up to date with everything happening at New York Fashion Week, make sure to watch this space.
Now, find out when you'll be able to get your hands on the L'Oréal Paris x Karl Lagerfeld beauty collection.