Milan Fashion Week wrapped up another successful season of in-person shows and presentations and for us (we're sure for many others, too), it was the Bottega Veneta Winter '22 show that remained a highlight. Scoring the fashion circuit's nod of approval with his debut collection, Matthieu Blazy became the most-talked-about designer of the season as he revealed a collection that looked to the fundamentals of Bottega Veneta.
It was expected that we'd see a continuation of what Daniel Lee brought to the brand, having worked alongside Lee as RTW Design Director since 2020. While Lee repositioned the leather goods house and created cult-like signatures, jumbo-sizing iconic pieces into artistic must-haves, Blazy is ushering in a new era that focuses on textures, traditions and timeless fashion.
"Bottega Veneta is in essence pragmatic because it is a leather goods company. Because it specialises in bags it is about movement, of going somewhere; there is fundamentally an idea of craft in motion. It is style over fashion in its timelessness. That is part of its quiet power," explains the newly ascended Creative Director in the show notes.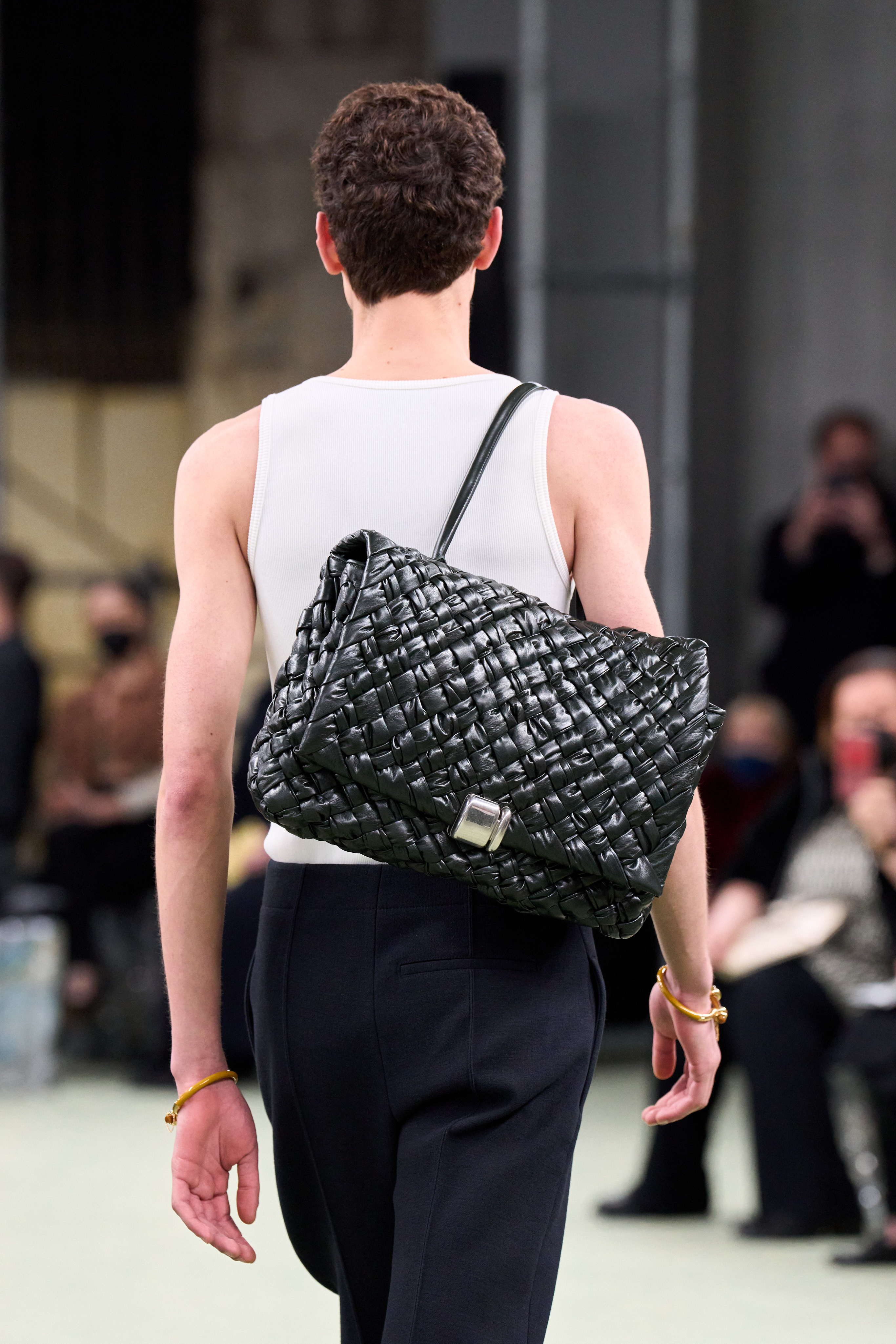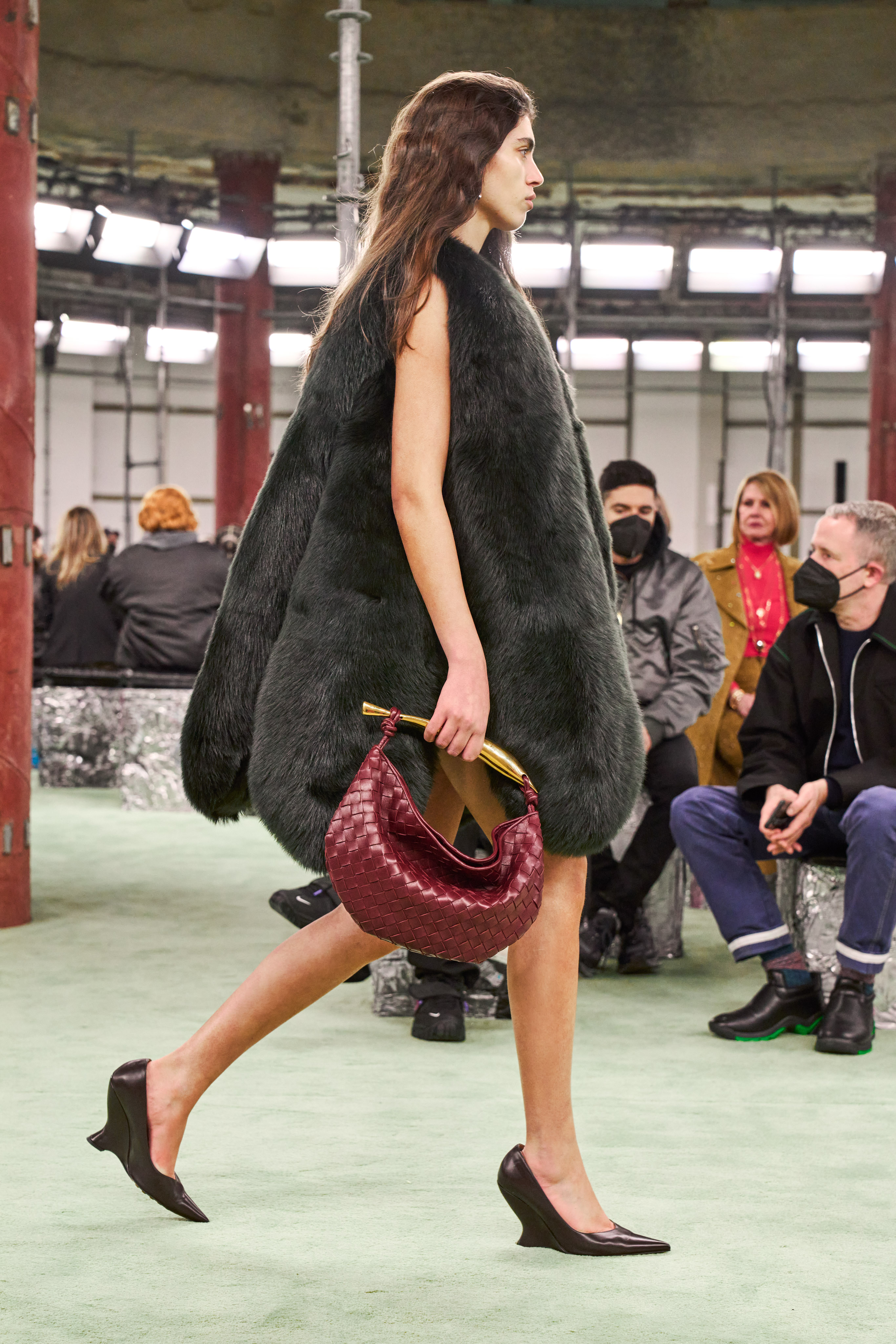 Circling back to what actually makes Bottega Veneta, Bottega Veneta? Blazy created his own story that exchanged the past and the present; the motion and emotion. It was an exploration of Italian savoir-faire intertwined with utility – which is evident in the first two looks presented on the runway. The entry points were simple, showcasing white tanks and shirts paired with photo-real denim (it's really a printed, supple nubuck), accompanied by Kalimero bags slung over their shoulders.
The Belgian designer comes with plenty of artistic references, courtesy of his upbringing and impressive resume that includes stints at the likes of Raf Simons, Balenciaga, Maison Margiela and Cèline to name a few. Take the collection's suiting for example. Beautifully made to feature a sculptural silhouette inspired by Umberto Boccioni's 1913 sculpture, Unique Forms of Continuity in Space, the form's focus was its pattern cutting, giving it new interpretations through volume.
It was clear that movement was vital to the collection – for both men and women – as it formulated new textures such as colour flecked herringbone, thrice printed textural pieces built around the body, new interpretations of Leavers lace and 21st-century synthetic jersey. The efforts were showcased through intreccio thigh-high boots (again, woven as a single piece), sequined dresses, exquisite suiting and voluminous leather fringe-filled circle skirts.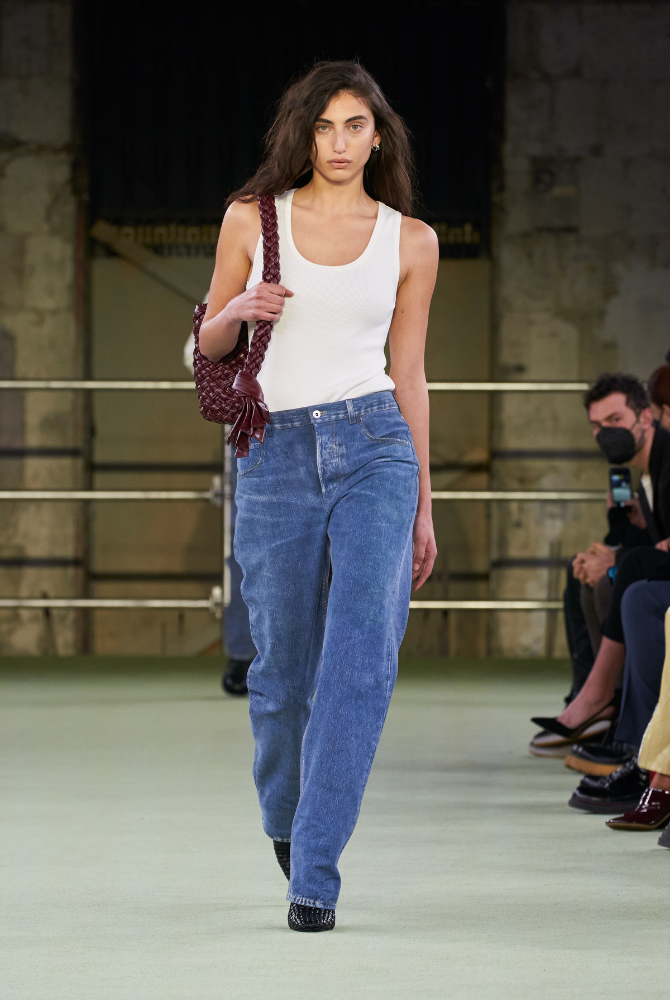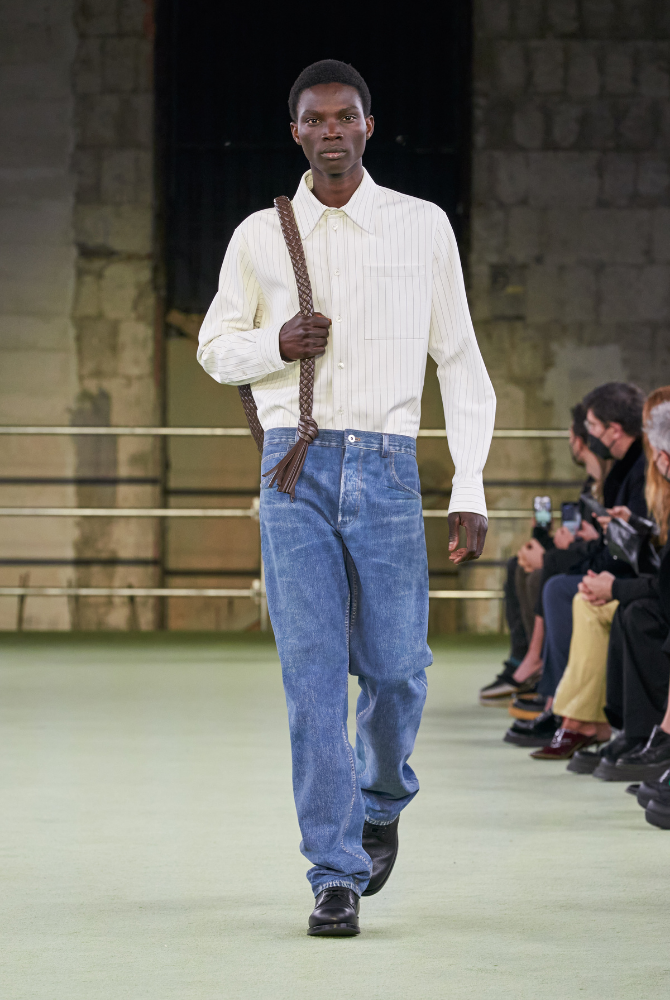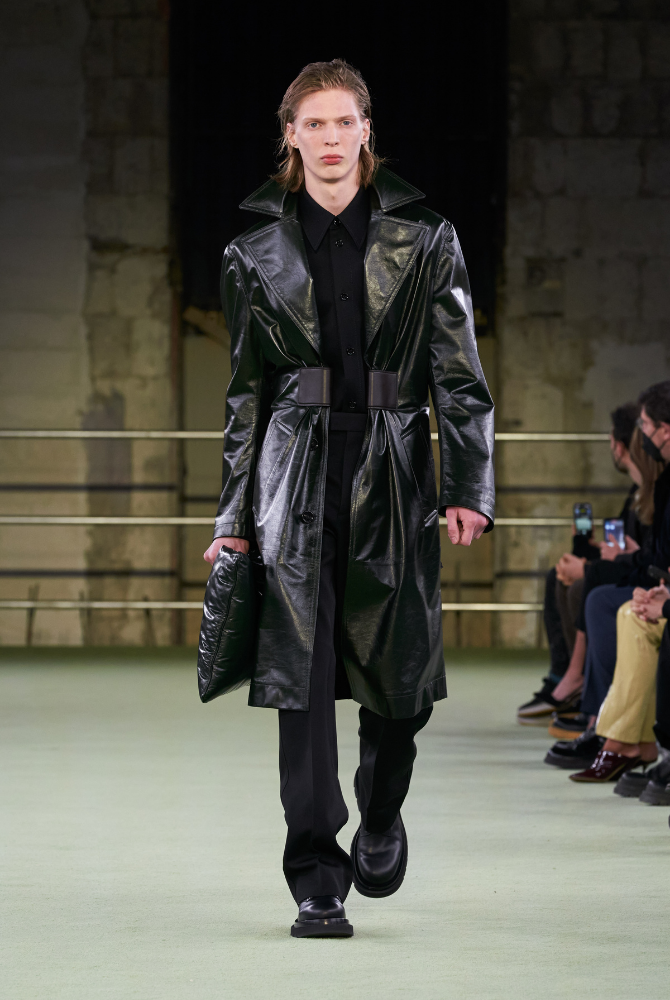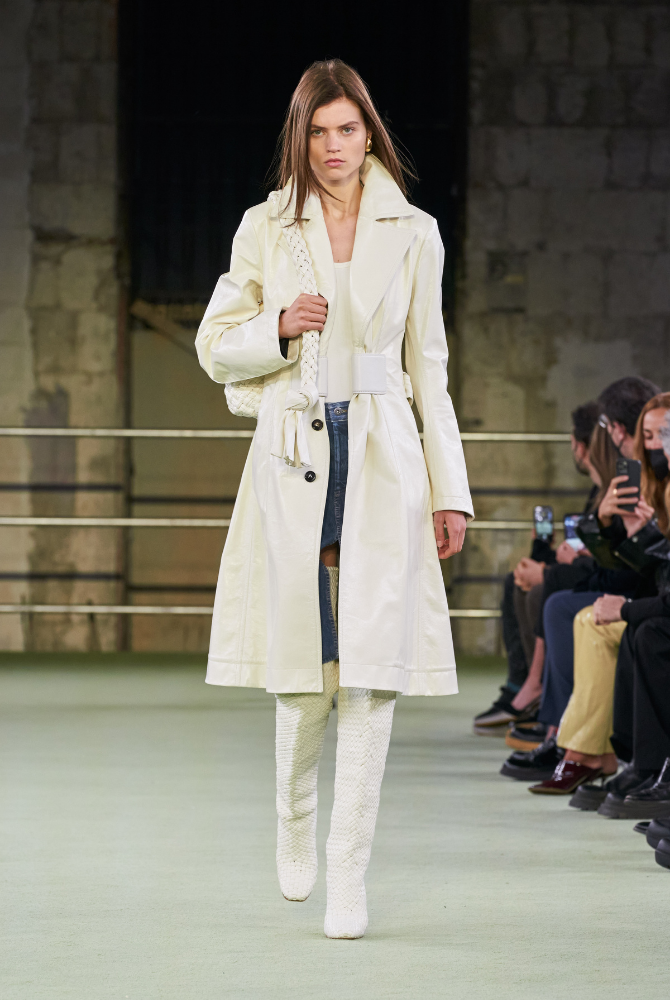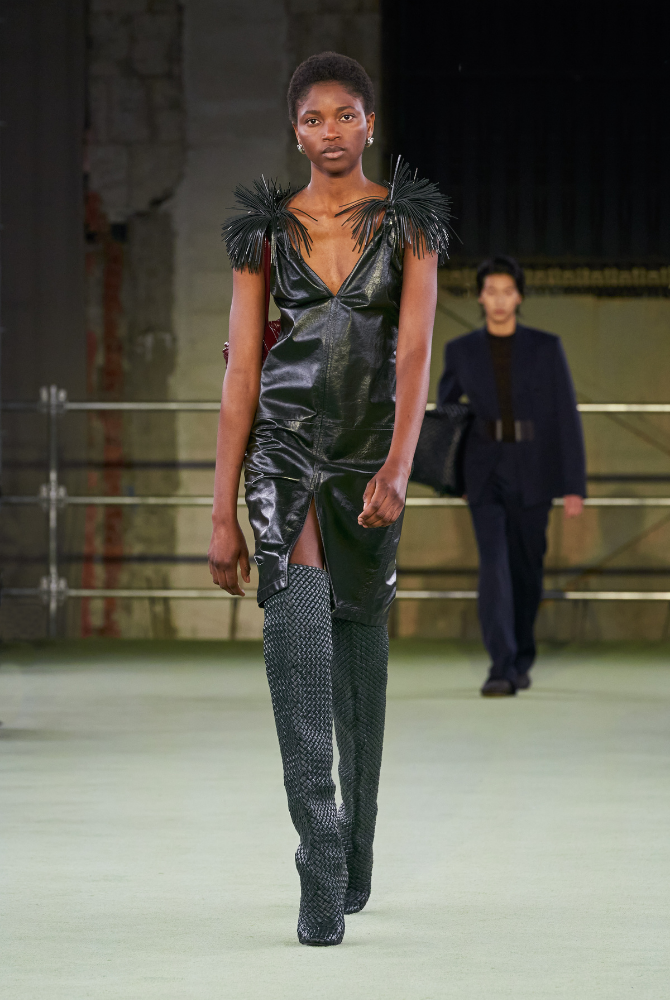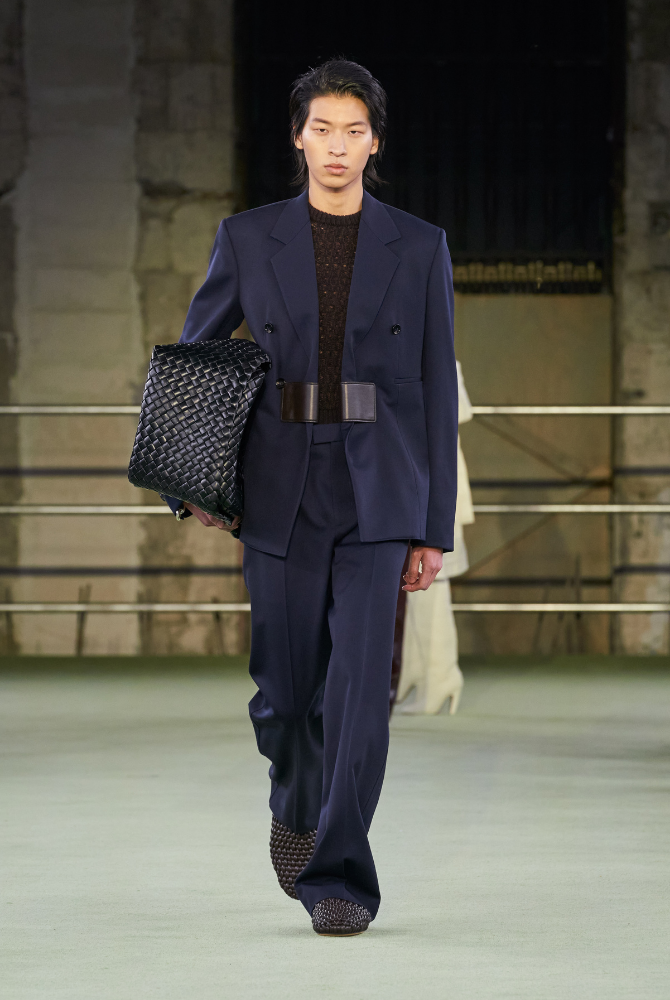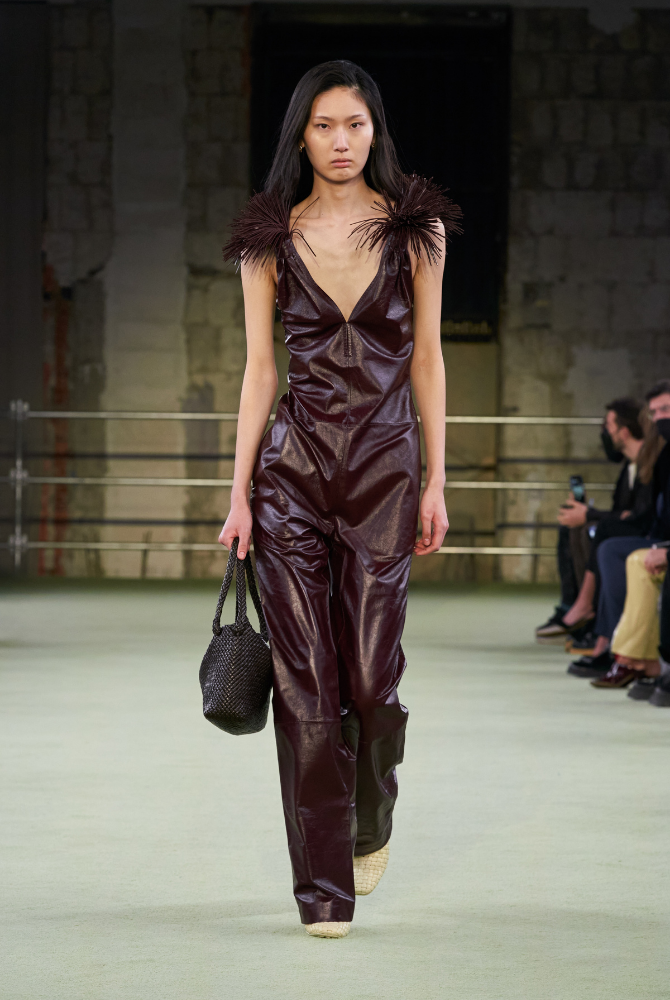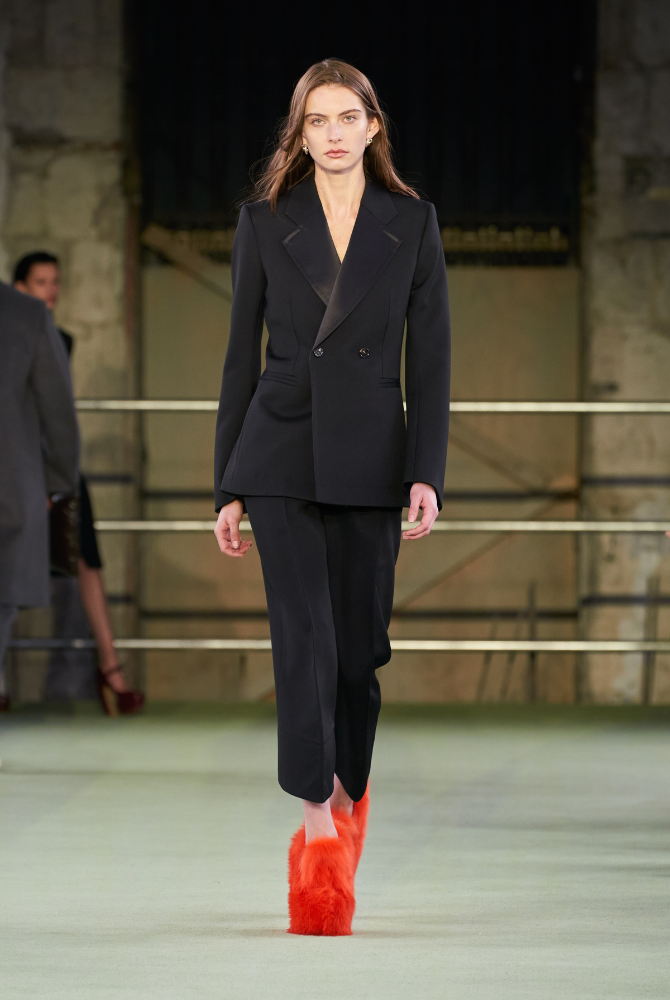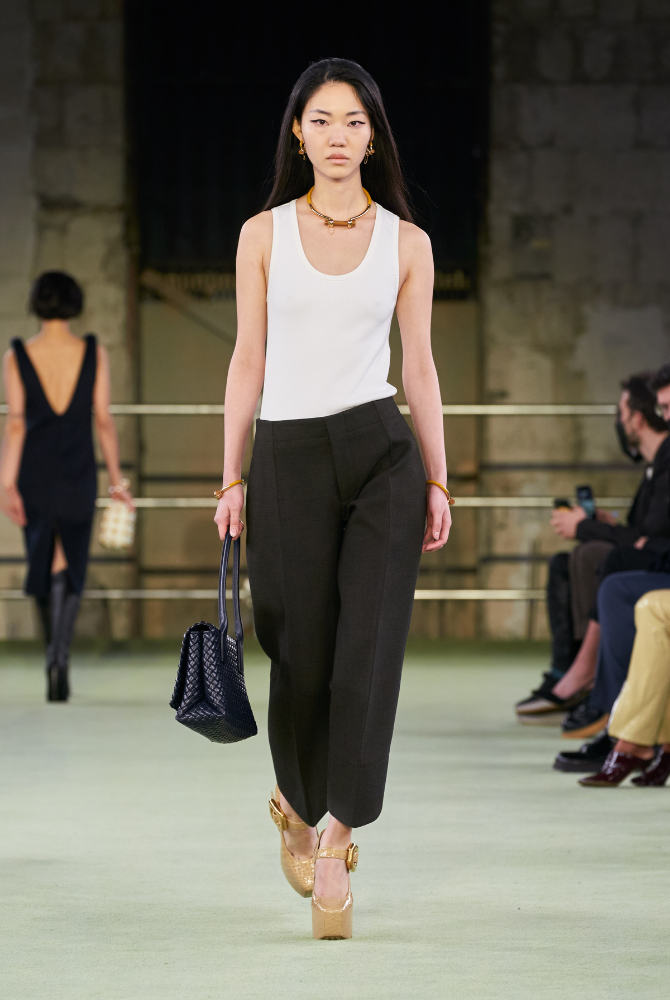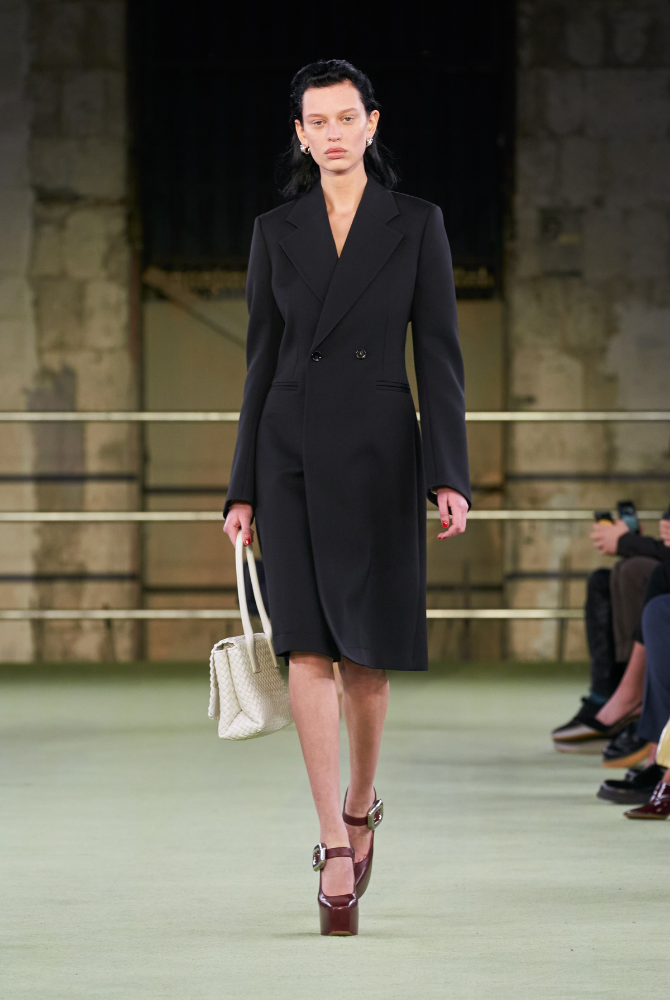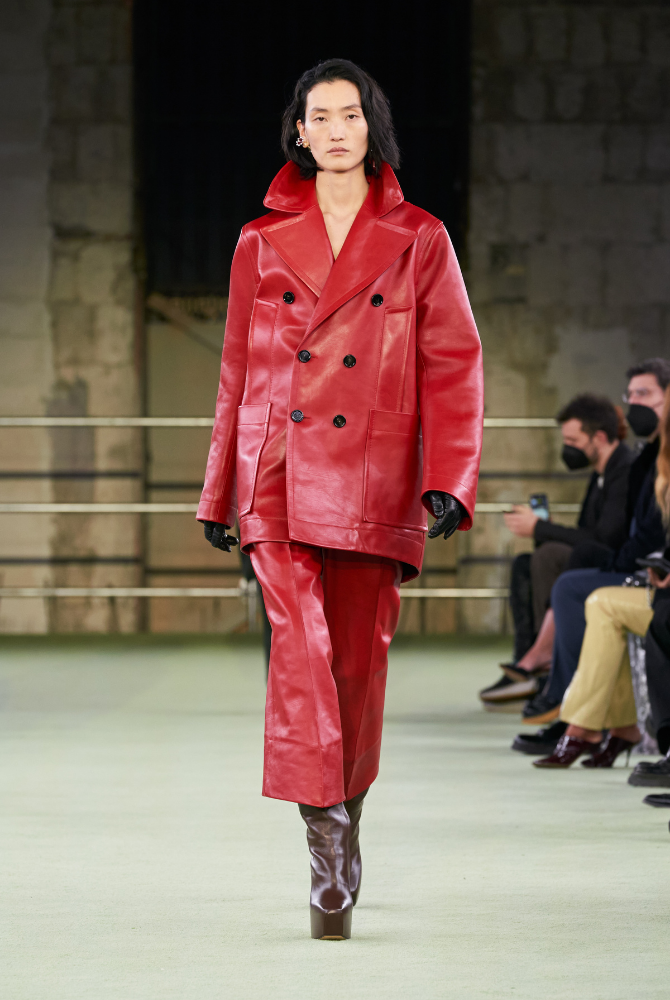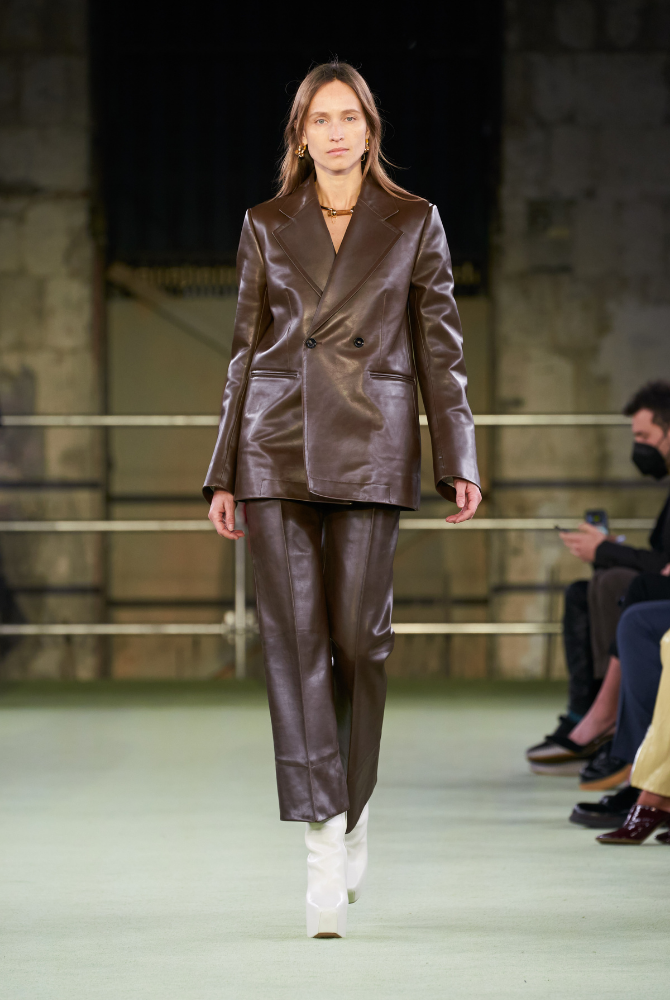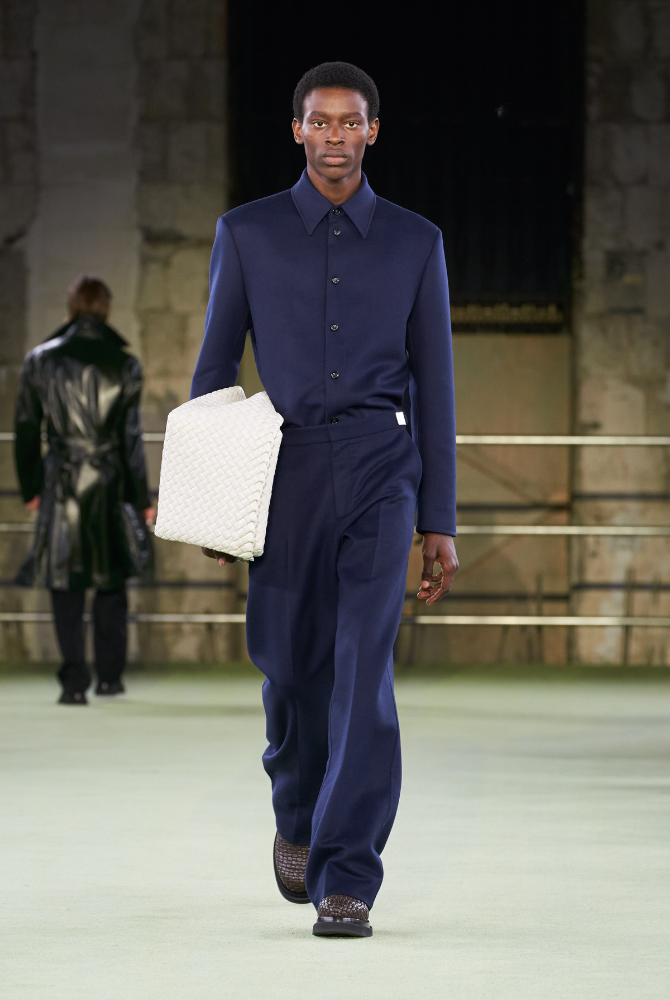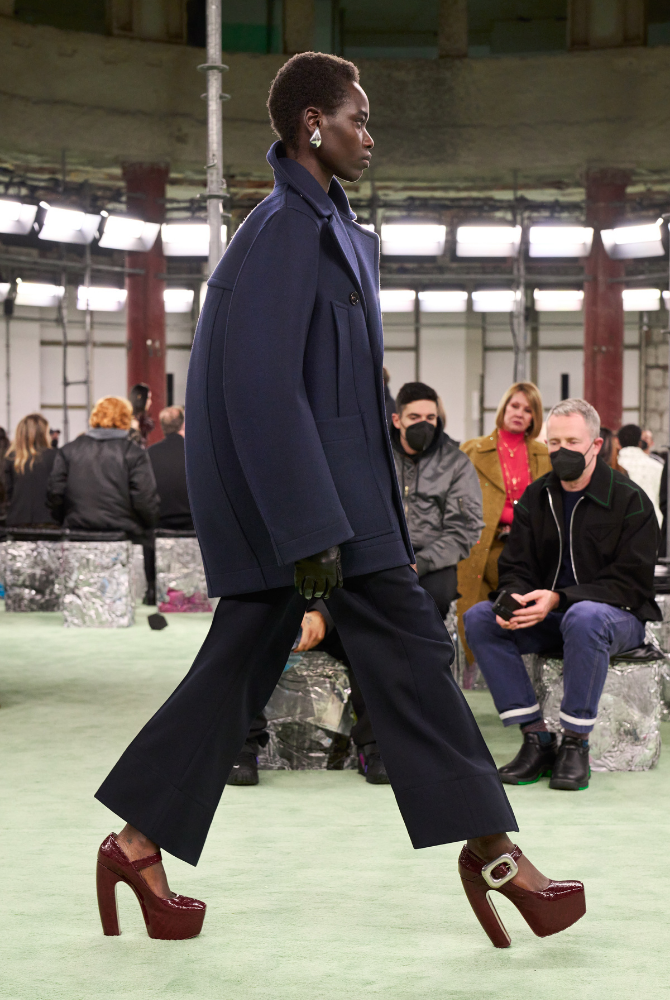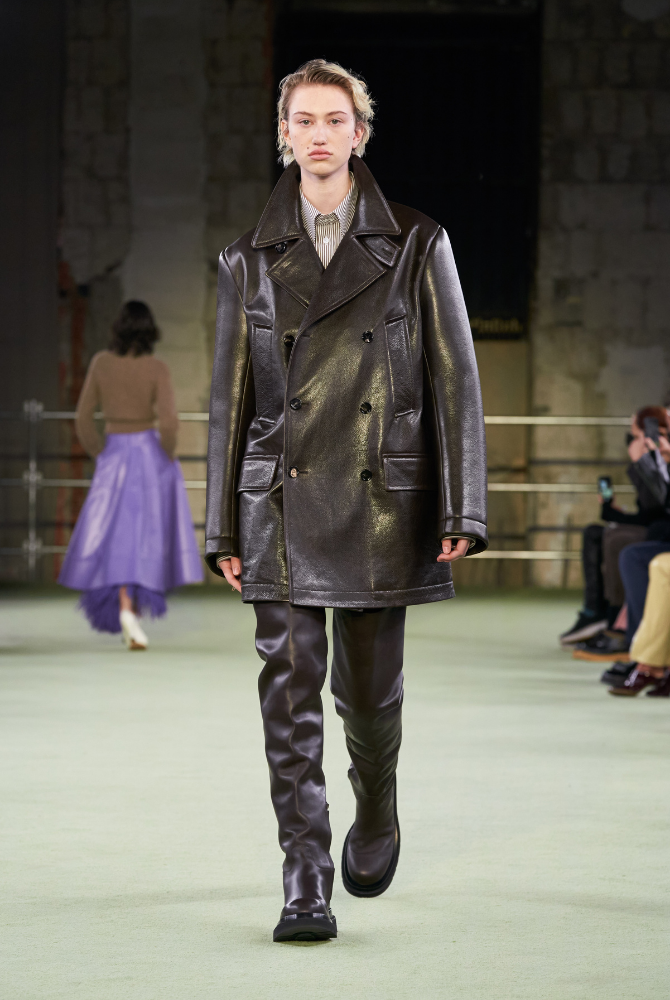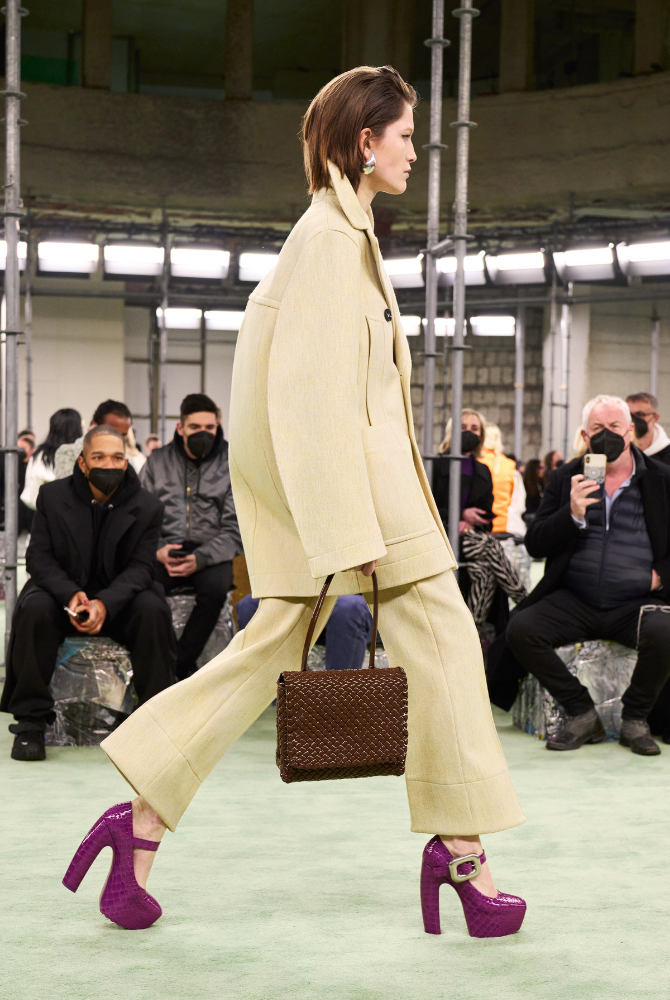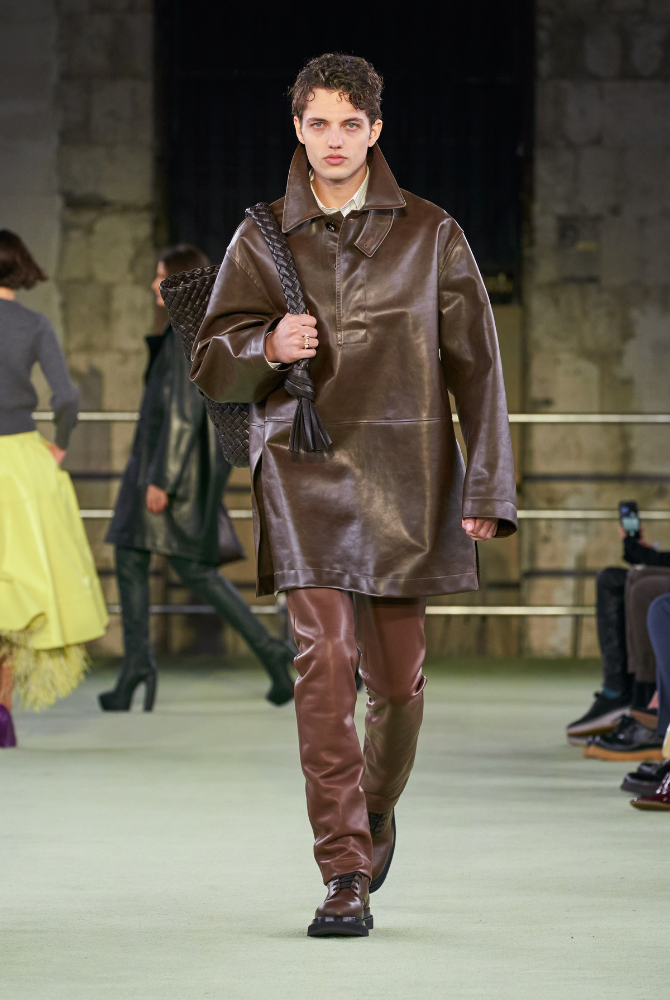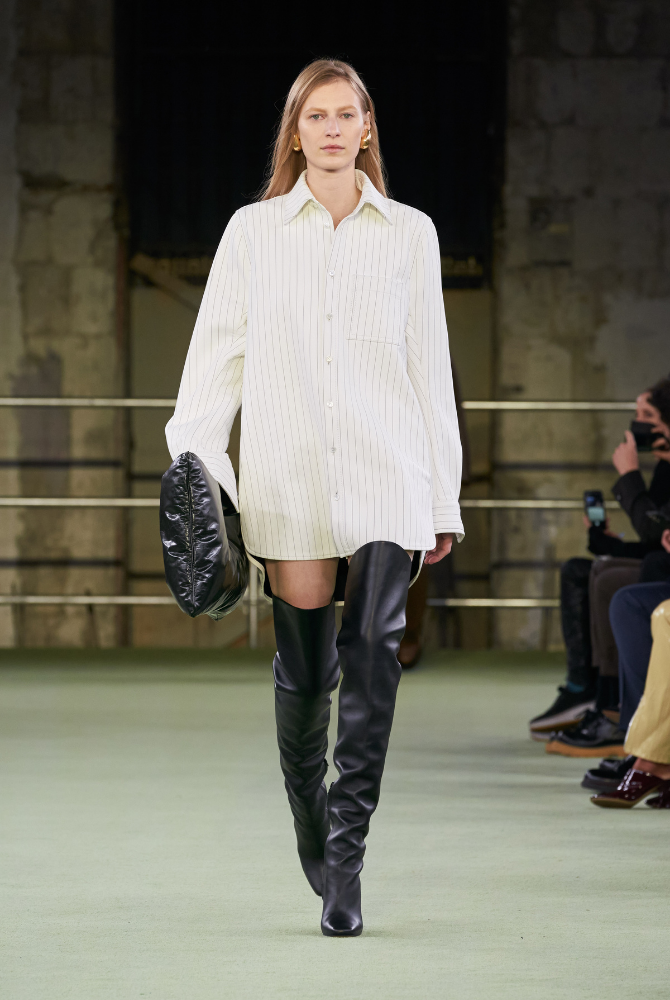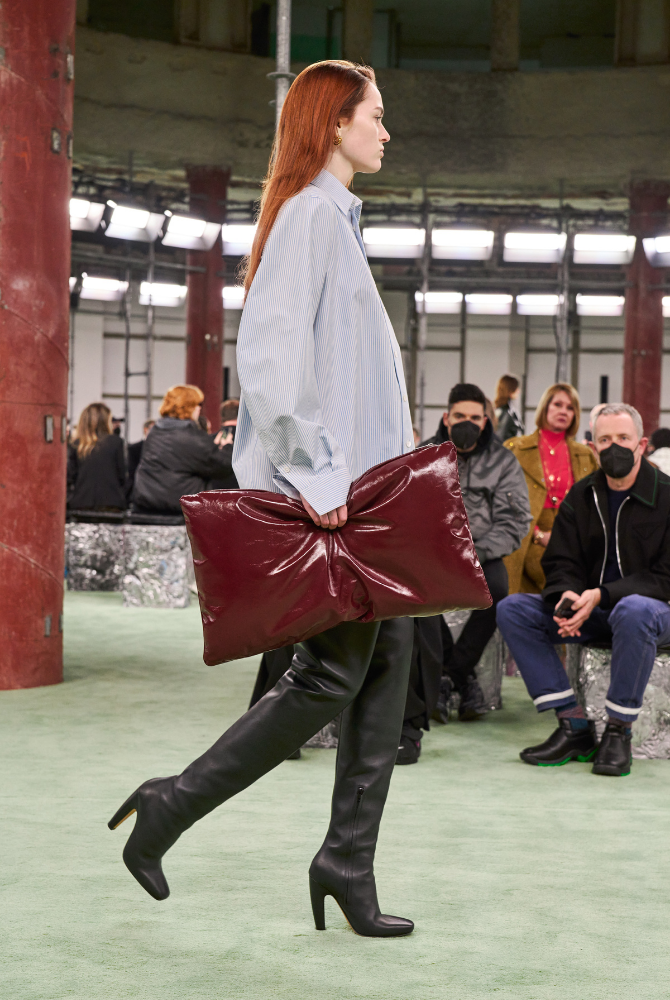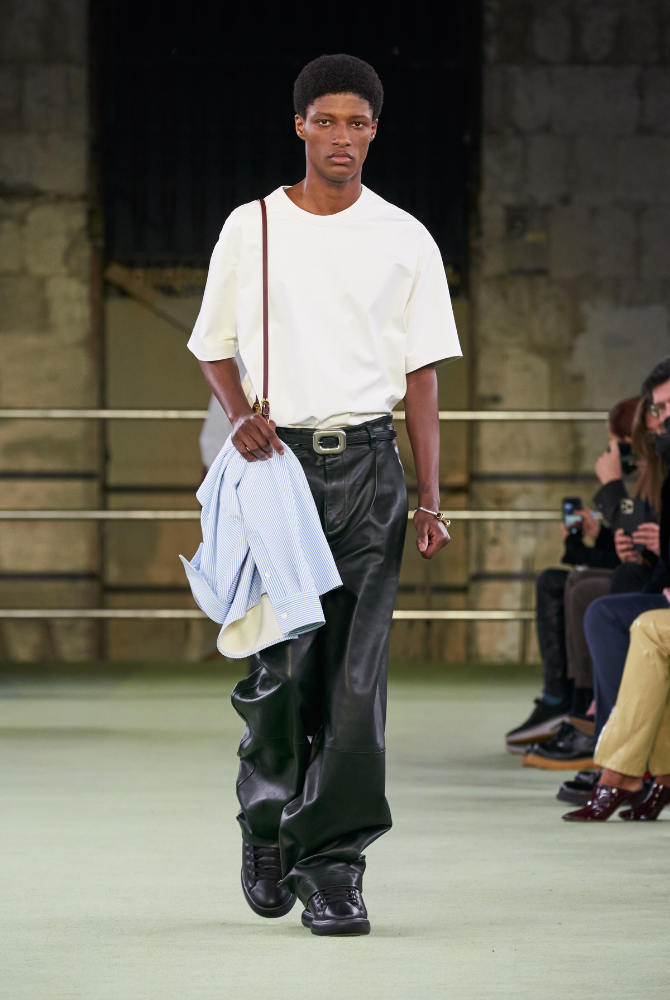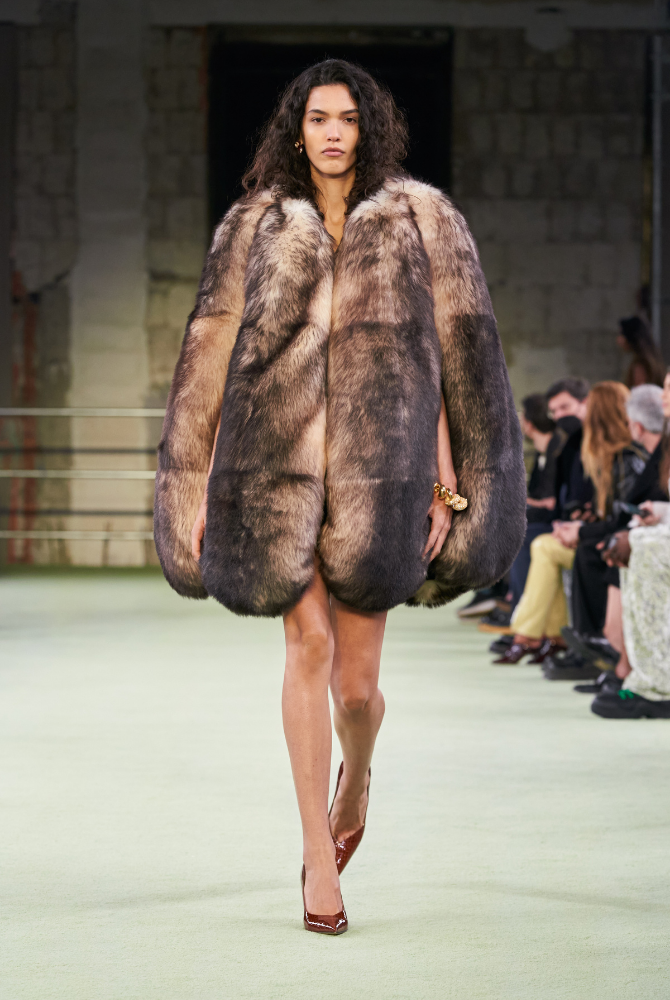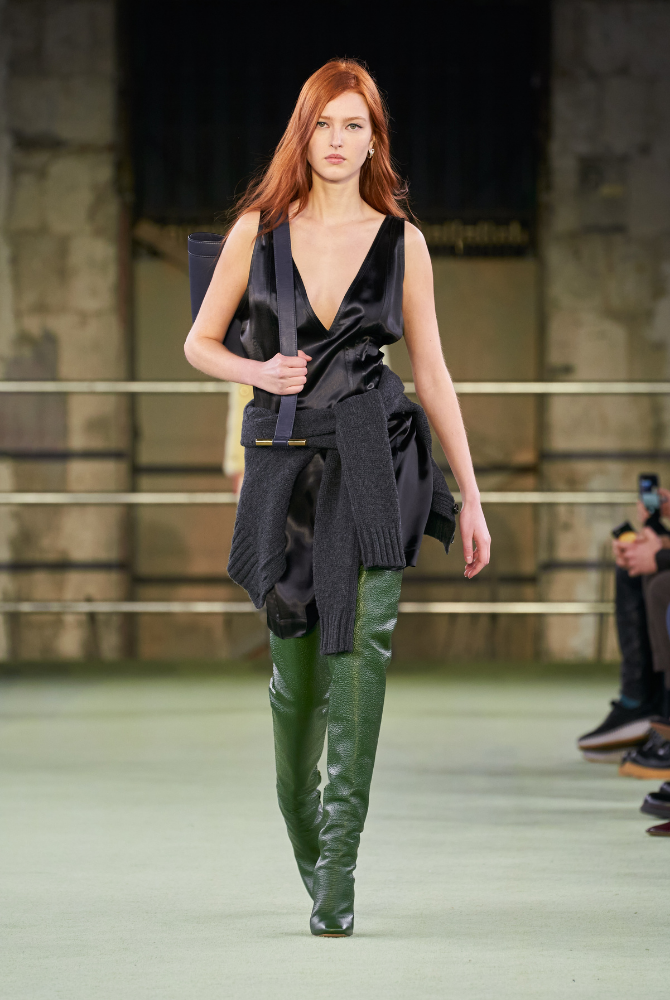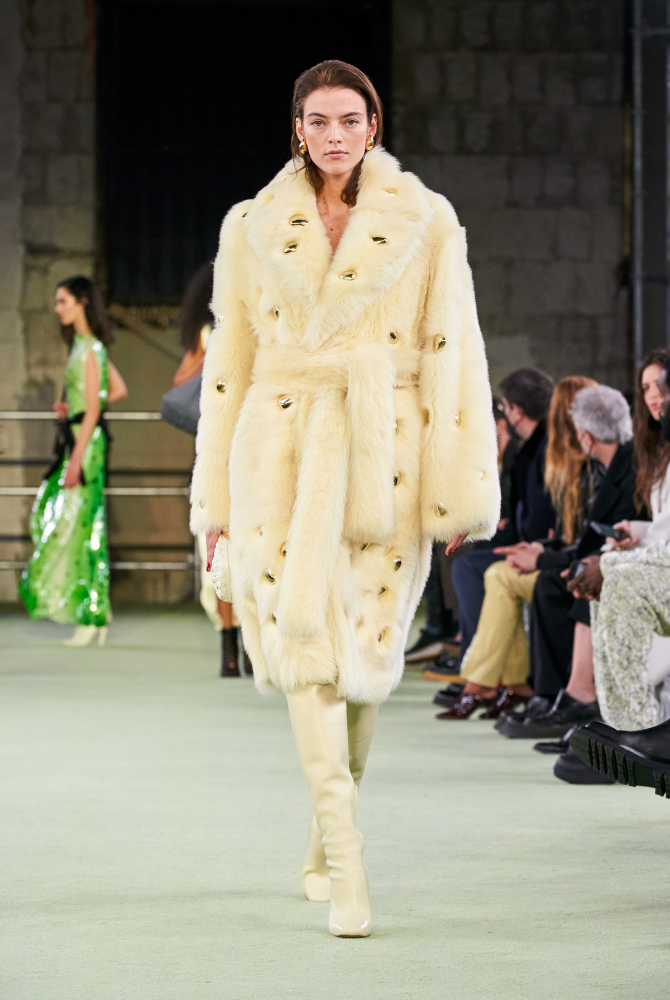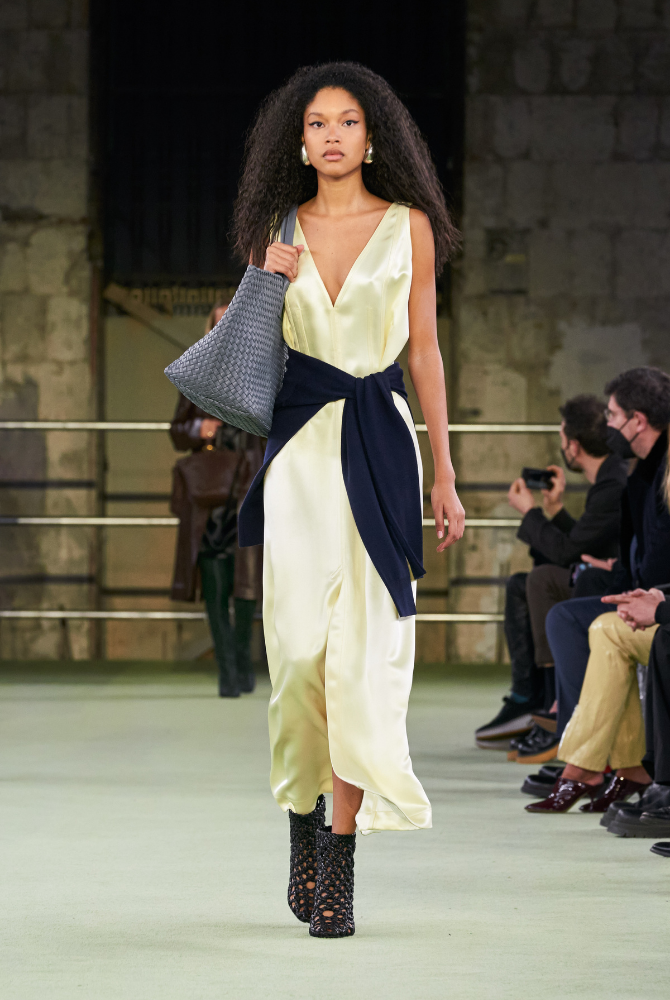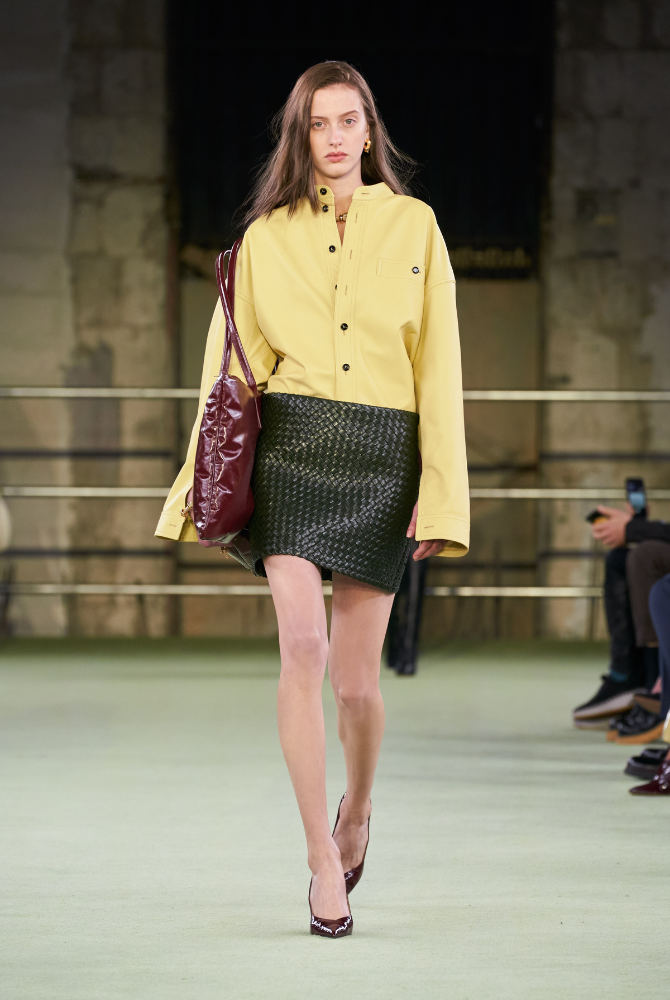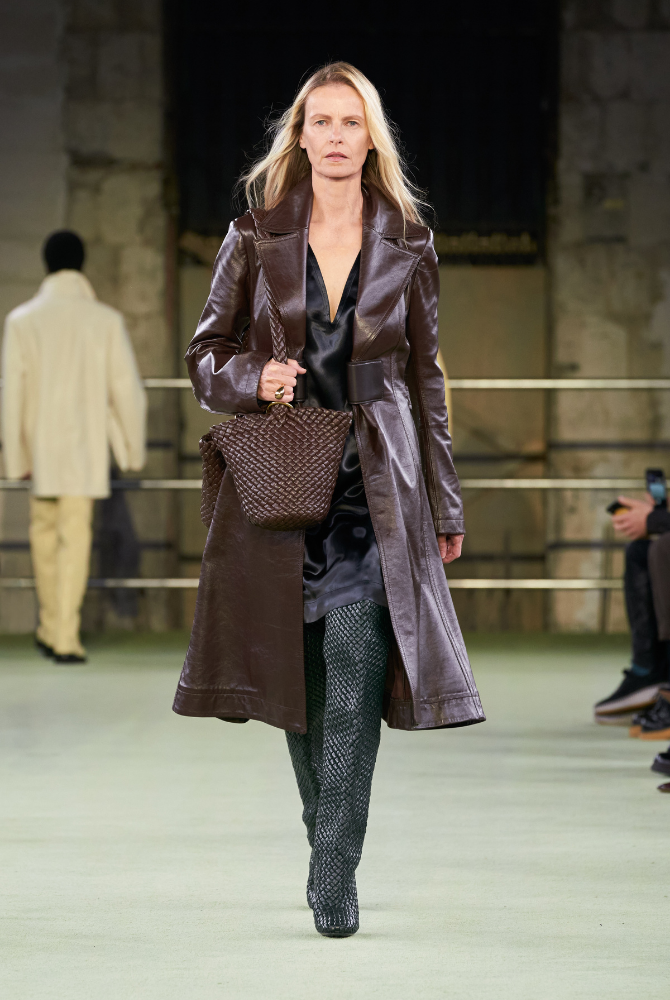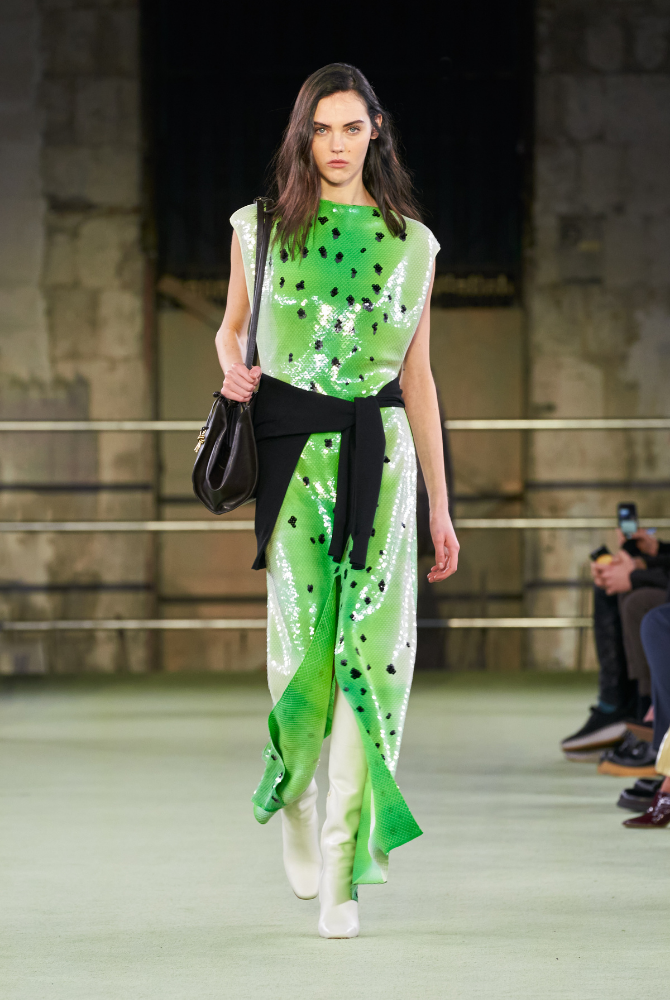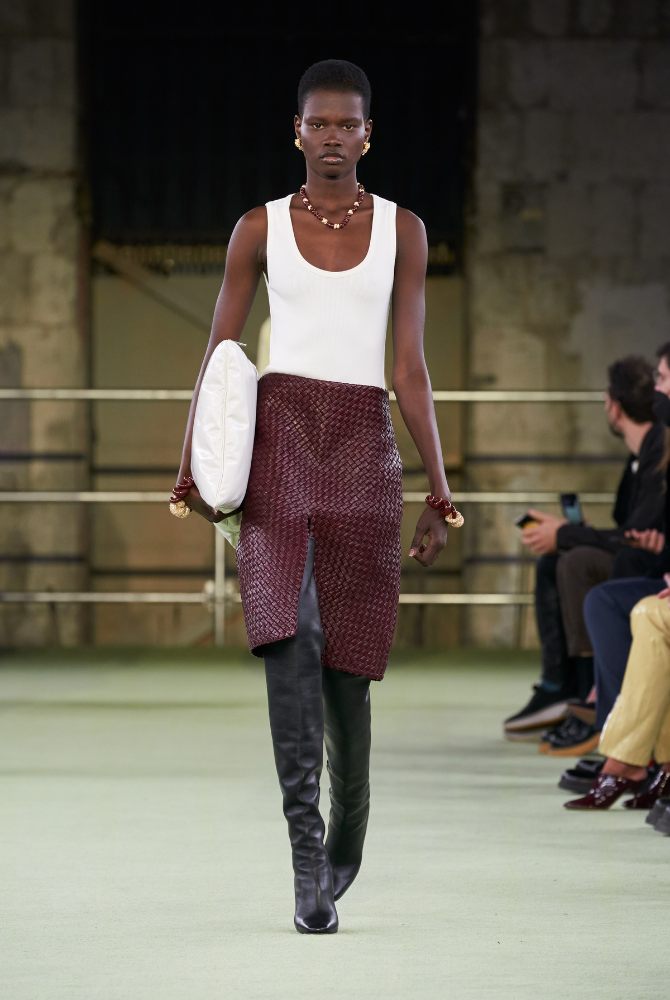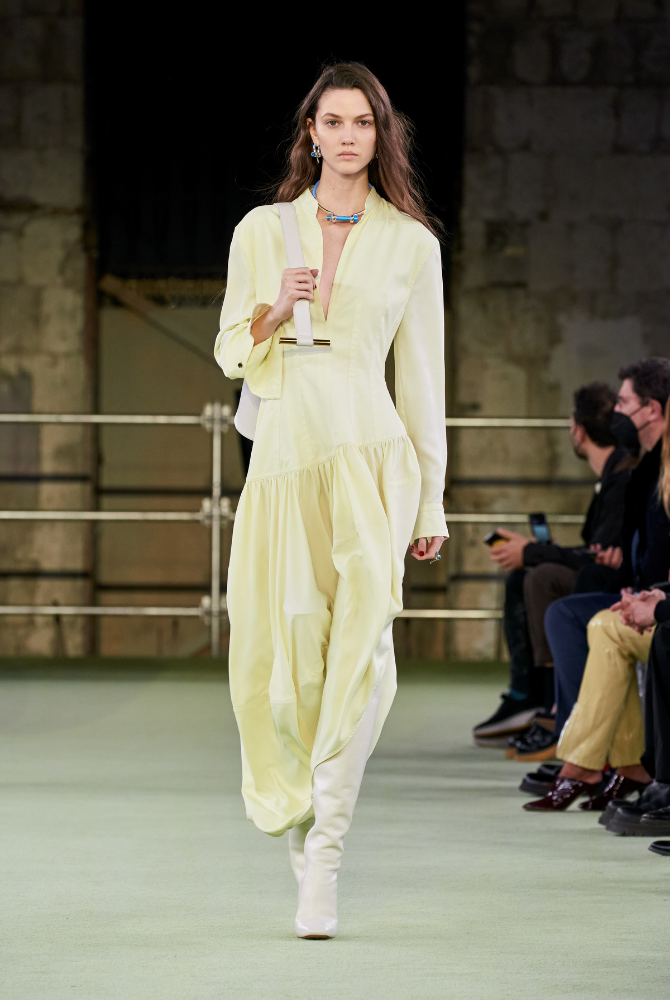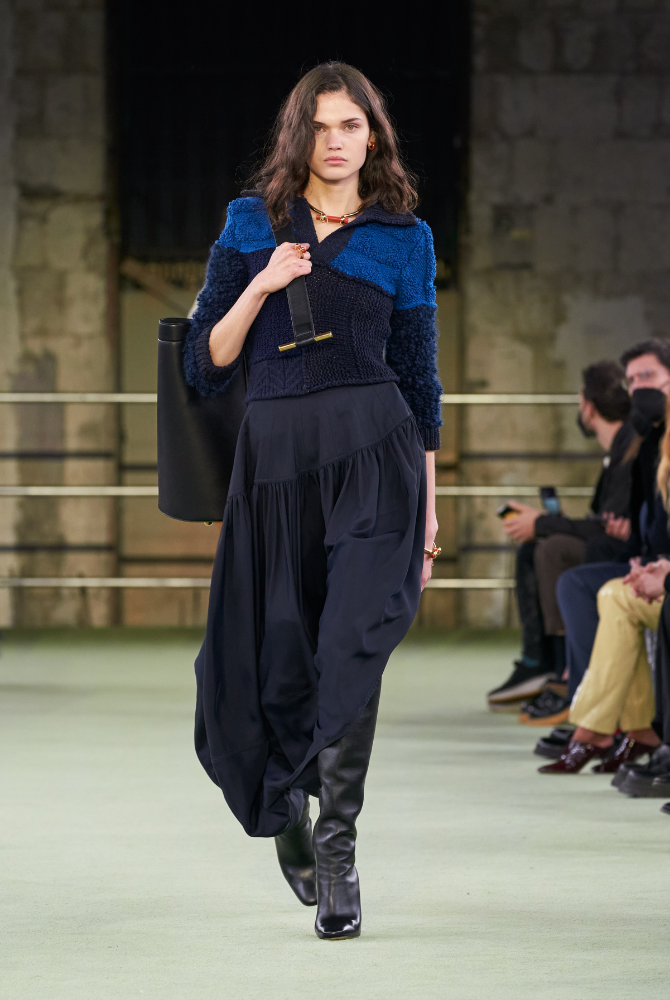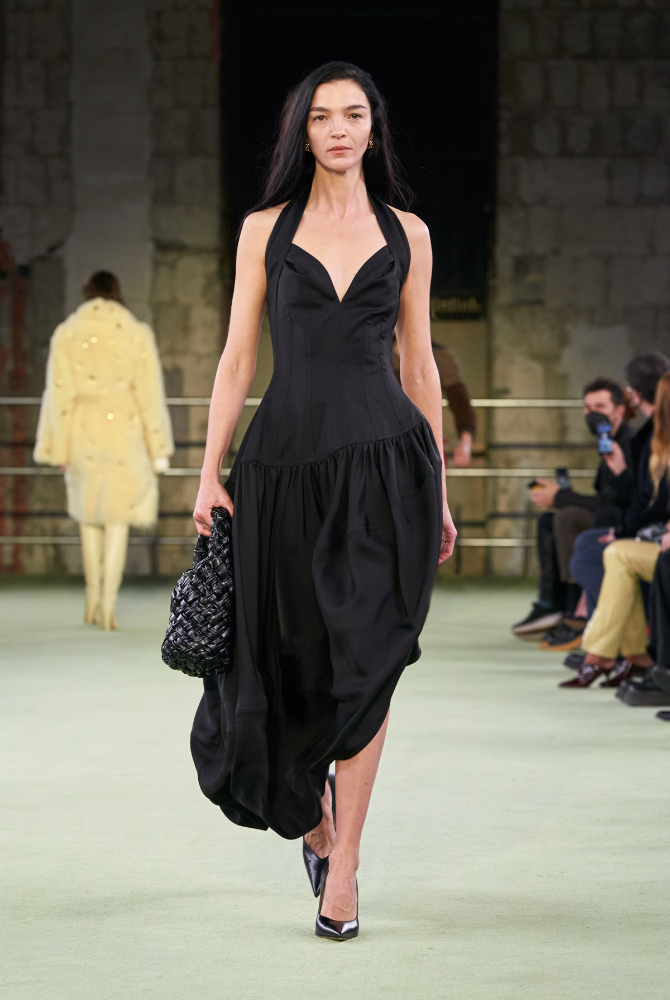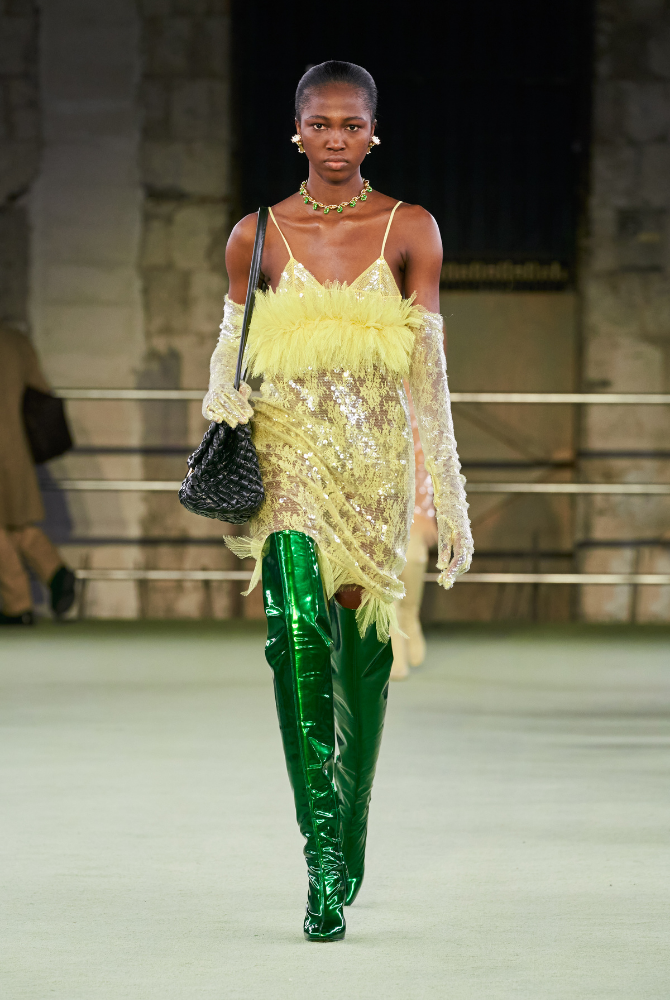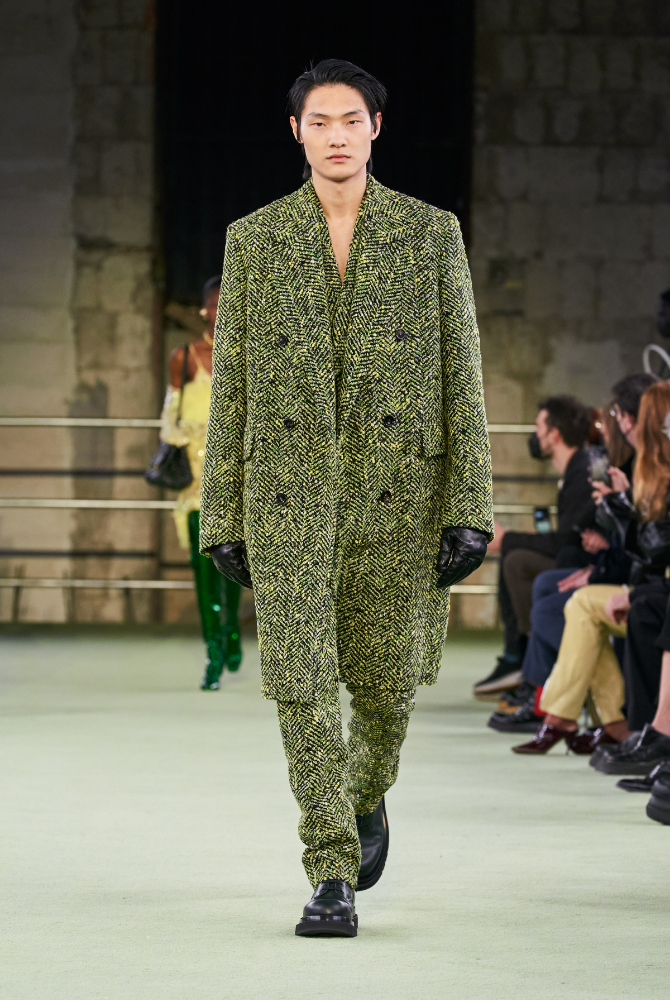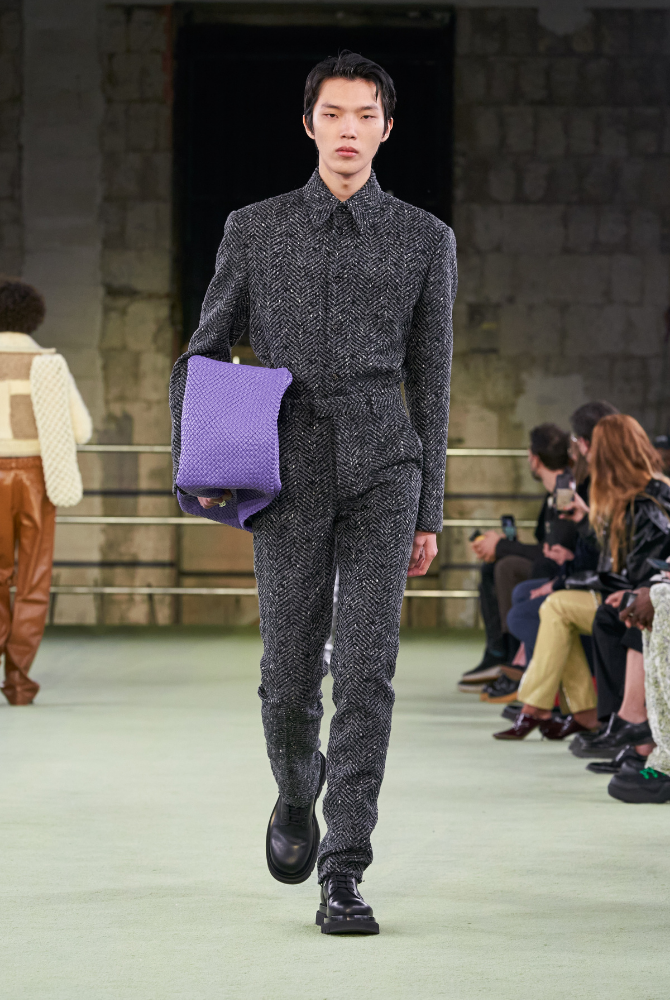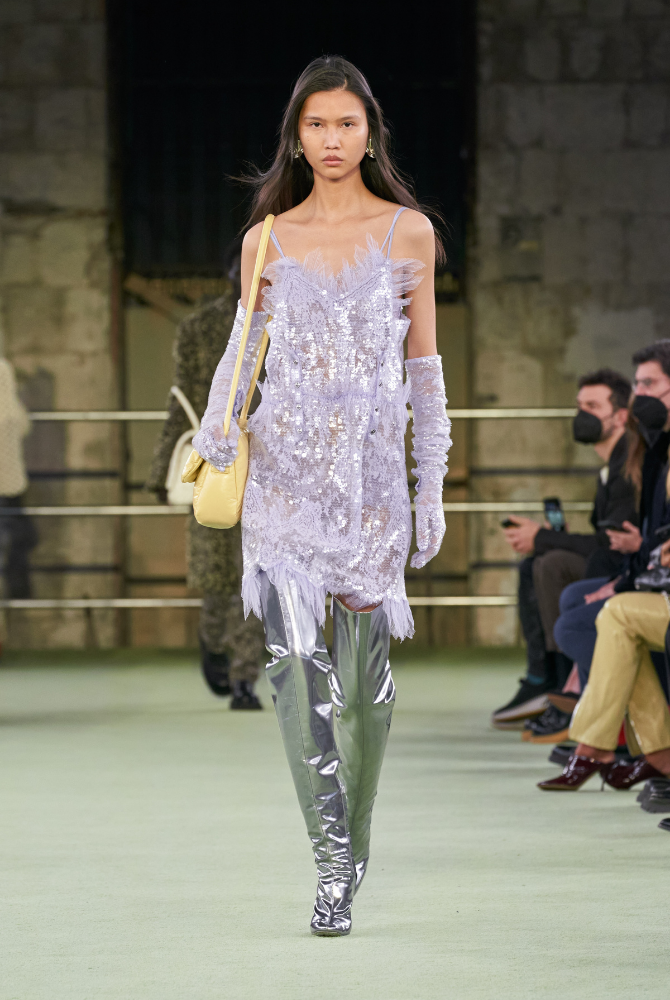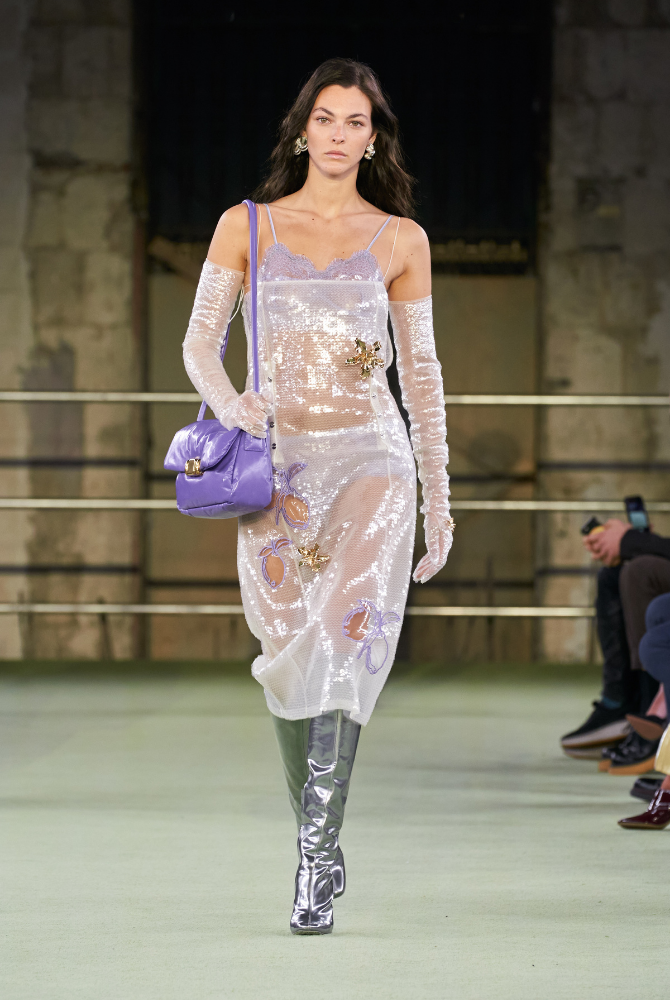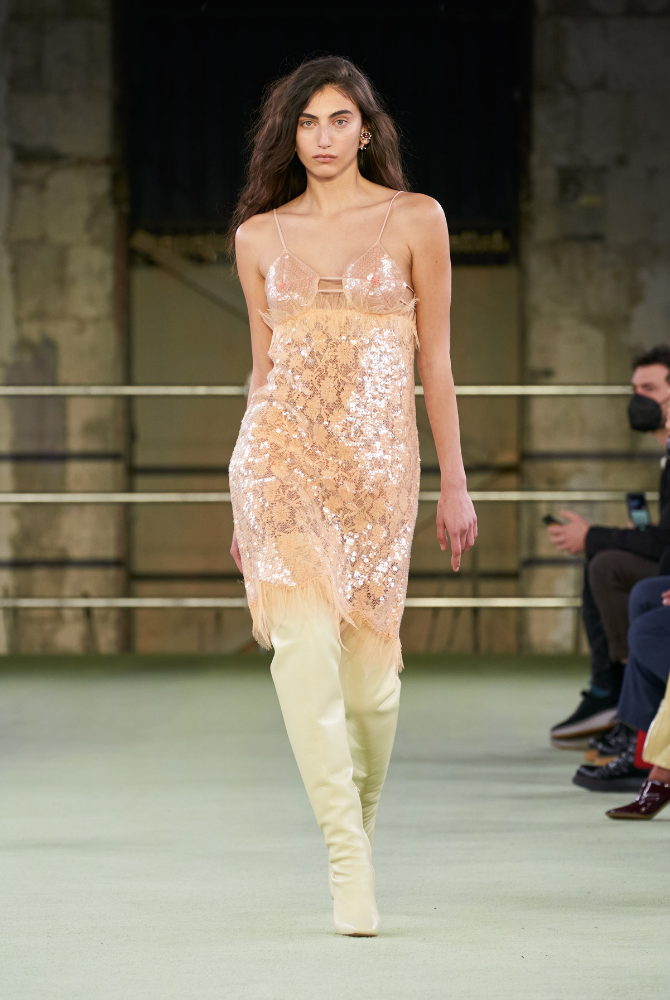 Held in an old 19th-century theater (Bottega Veneta's soon-to-be new headquarters), the overall show was a fitting introduction to Matthieu Blazy's debut as Bottega's new Creative Director. It's safe to say that brand is still in good hands.