ACNE STUDIOS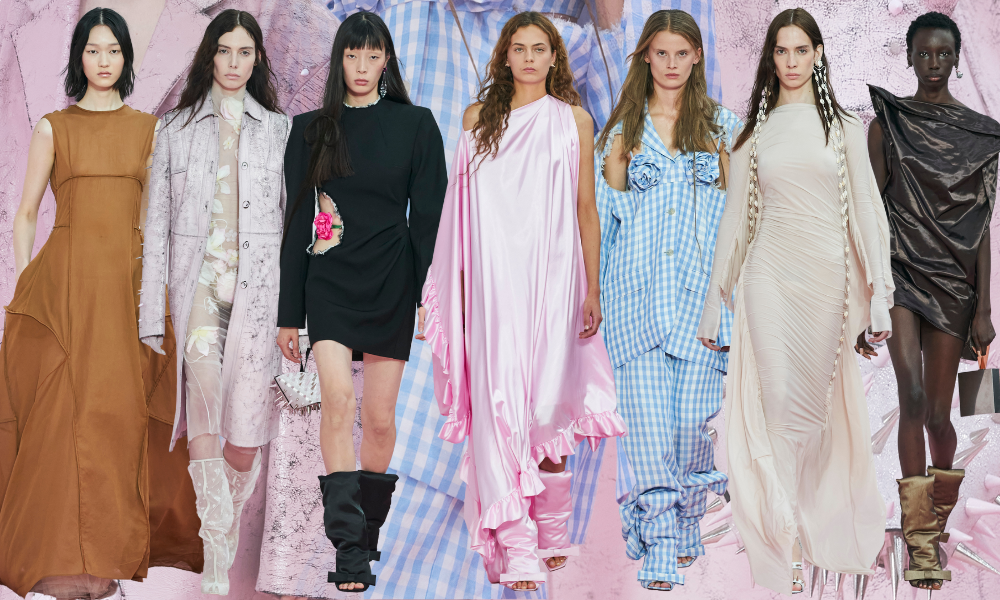 Paris Fashion Week is officially in full swing, and Acne Studios is part of the jam-packed schedule and celebrated its 10th year of showing in Paris – so you know it had to be special. The monumental celebration took an understated glamour twist of a wedding party, where guests were invited to lounge on scattered silk beds in an all-pick show space as models fronted the new Spring/Summer '23 collection. The collection itself was a celebration of juxtaposition and contrasts as romantic roses, gingham, white satin bridal slippers and Valentine's bows are subverted as romantic lace, georgette, and satin-crepe mixed with harder fabrics such as hand-painted leather trimmed with studs.
"I wanted to do a show that celebrated the 10-year anniversary of Acne Studios in Paris, and the most iconic event I could come up with was a wedding. I find weddings fascinating because they are always a melting pot, and they kickstart a lot of aesthetic choices," says Jonny Johansson, Creative Director of Acne Studios. "There's something cute, kitschy, sweet about weddings – but also something serious, tense, and vulnerable. I wanted to put a spin on the classic, kitschy wedding, referencing everything from the tablecloth to the chandelier, the wedding-night bedsheets, the bride's shoe, the bows, and the cute flowers."
It is wedding season after all.
BALMAIN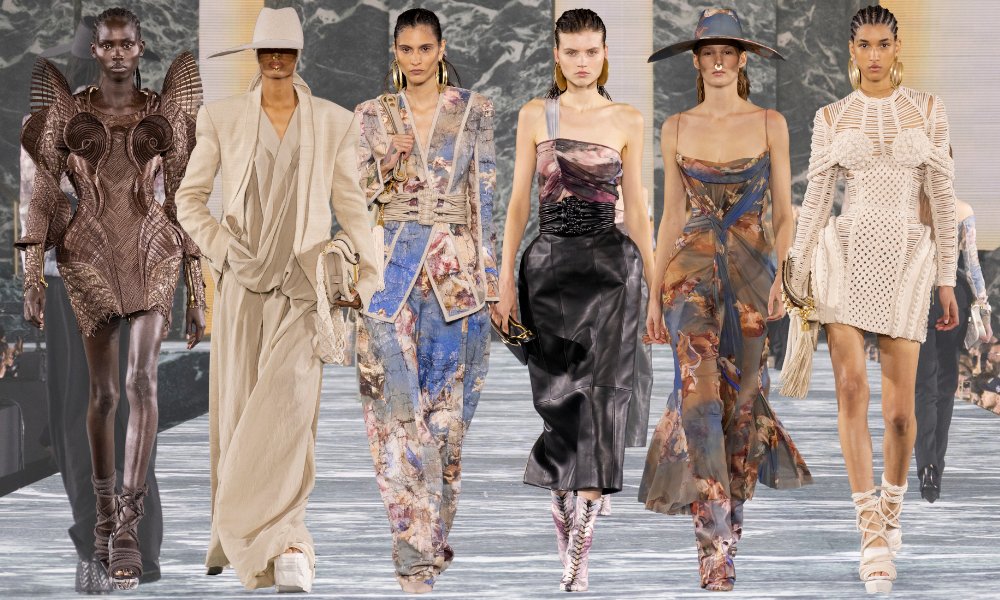 As with every season, Balmain is a power-player on the Paris Fashion Week calendar. Enthusiasts look forward to the fashion-music-festival spectacle and for Spring/Summer '23, it was no different. Olivier Rousteing took over a stadium to reveal a collection that merged ready-to-wear with couture. With looks that honoured the Balmain DNA – think rigid embroidery and just impossible coolness – the collection also featured some new memorable moments including the use of sustainable materials. Whilst the collection is not 100% sustainable, the Creative Director used fabrics made of paper, of banana, and of wicker (in the couture) and even one unique bustier was created with the bark from chestnut trees.
The biggest surprise though was Cher, who popped up at the finale of this 100+ look show as Rousteing took his bow on the runway. We all love a Cher moment.
CHRISTIAN DIOR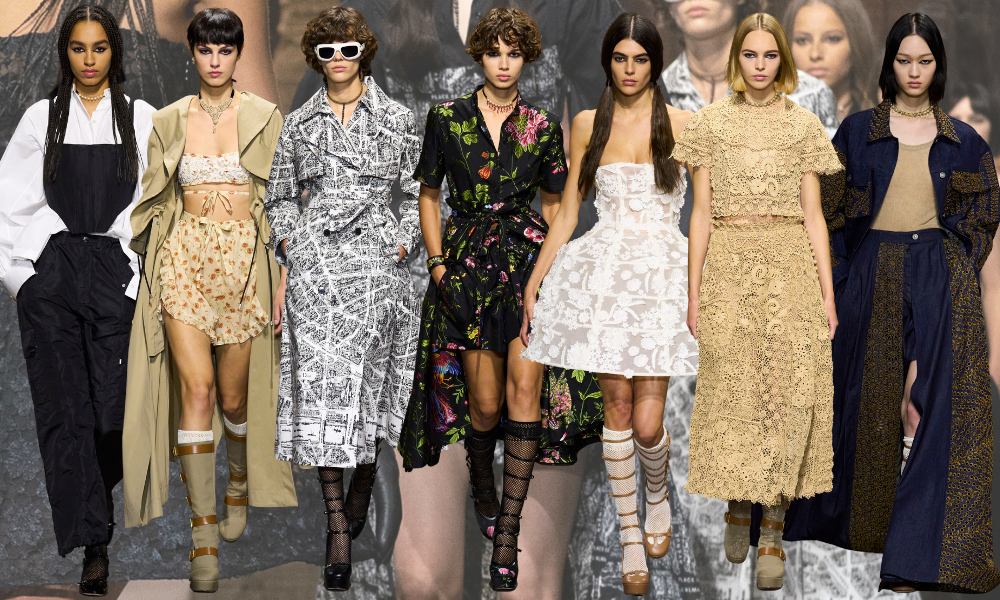 Every season, there's a guarantee that Maria Grazia Chiuri plays on intellectual messaging when presenting her latest collection – especially when it's about the influence of powerful, feminine muses – and for Spring/Summer '23, the collection was dedicated to Catherine de' Medici. A key inspiration of the collection, she was considered one of the most powerful women in Renaissance history, a ruler who lived and did things her own way during her three-decade reign of power. This was reinterpreted in a series of suitably Stygian looks featuring hoop skirts, gilded gloves, architectural corsets, black lace, zodiac imagery and Medieval embroidered flowers. Whilst flowers have always been at the very heart of the Maison, they're reimagined in a new light as they're set against black jacquard or bloomed on pannier skirts in raffia.
This year's collection saw more direction and definition than in previous seasons (we love it) and what made Dior's showcase stand out more than it already did was the incorporation of expressive choreography that took inspiration from the Renaissance. Infront of an immersive castle set, Dutch choreographers and brother-sister dance duo Imre van Opstal and Marne van Opstal opened the show with an interpretative dance performance that wound around the runway and through the set.
DRIES VAN NOTEN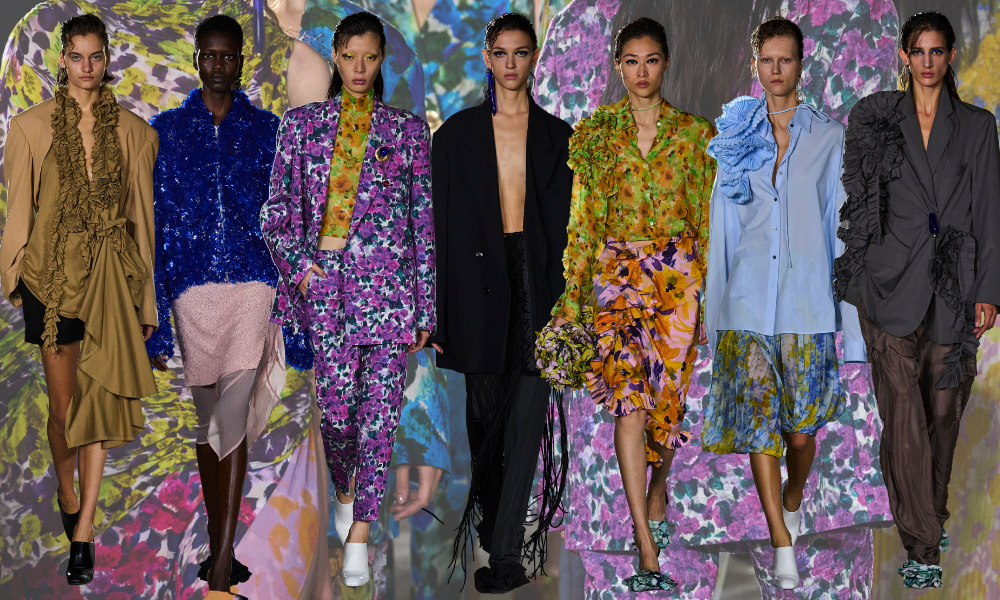 Finally! Dries Van Noten is back on the runway with his first womenswear offering in over two and a half years. And he's celebrating his comeback with optimism. Divided into two different phases, the runway began with inky line-up all-black ensembles translated through oversized jackets, midi dresses, crop tops and accessories too. Slowly, statement foliage, electric sequins and gathered fabrics made way for a colourful line-up of fitted dresses, ruffled jerseys. soft-shouldered jackets, fringe-hemmed coats and T-shirt dresses. Dries Van Noten's notion of optimism wasn't only seen in sartorial excellency but through an effortlessly uplifting colour palette in milky pinks, greens and blues.
SAINT LAURENT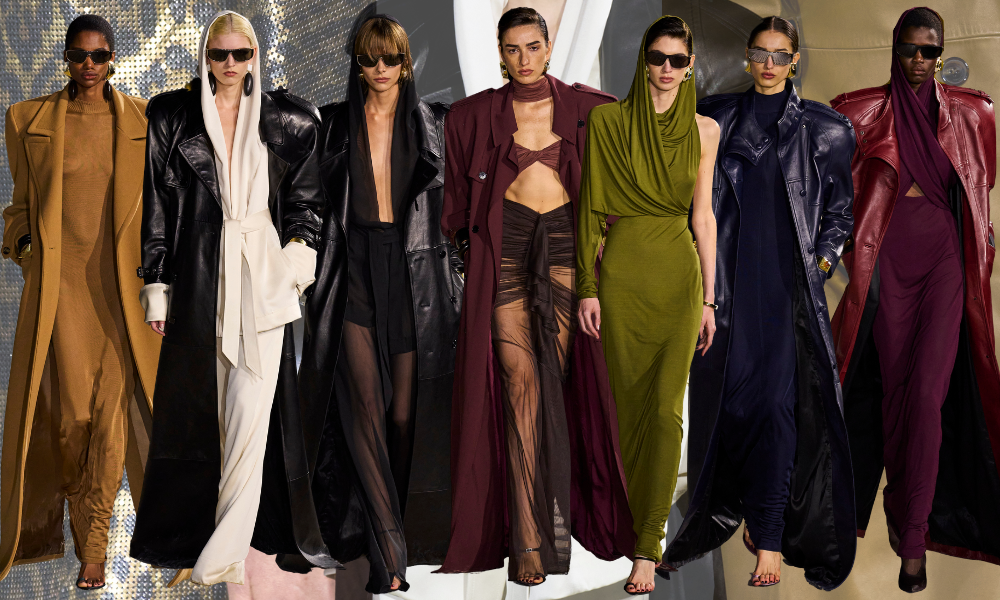 Saint Laurent proves 'the bigger, the better' at its latest showcase during Paris Fashion Week. As usual, the brand staged a runway show beneath the glittering lights of the Eiffel Tower but this season, it seemed like a more intimate presentation than previously. The Summer 2023 collection came in powerful punches of Saint Laurent's DNA, with incredibly chic twists.
With inspiration directly from the archives, there was one specific element that defined the entire collection which was the return of the hooded dresses. The image has appeared in its archives repeatedly, and Anthony Vaccarello presented a new take of the iconic silhouette on the runway. There was also a bold new iteration of the suit silhouette ushering in soft suiting in pajama-like shapes with lush leathers, metal cuffs, and sunglasses. And if there was one key takeaway from the showcase, it's Saint Laurent's message of big, powerful, statement dressing which we've seen through oversized coats, floor-sweeping leather jackets, big shoulders, big earrings and big hoods as well.
ALSO READ: RICCARDO TISCI IS OUT AT BURBERRY, DANIEL LEE IS IN.