Technical artisanship meets a bright colour palette for a new season at Salvatore Ferragamo…
There's no doubt that whilst the majority of the world was living in lockdown last year, being stuck at home contributed to our creative thinking – whether it was whipping up banana bread in the kitchen or jumping on the fad of tie-dye everything.

For Paul Andrew, it was film. Salvatore Ferragamo's Creative Director went on an Alfred Hitchcock binge, rewatching classics to gain inspiration for Spring/Summer '21. From there, he created a wardrobe for the heroines and heroes of the untold stories ahead.

"This spring, stuck at home, I rewatched classic Hitchcock, in particular Marnie, The Birds and Vertigo," explained Andrew on the inspiration of the collection. "In the past, watching those movies has always felt like inhabiting a surreal and strange world. But watching them during lockdown was different: they felt like "real life" because "real life" itself had suddenly become so strange, surreal and oddly beautiful."
There are several direct homages to key Hitchcock moments in the collection, and the collection echoes that gorgeous, hyper-real level of colour saturation that is so evident in the beautiful Technicolor masterpiece that is Vertigo."

Due to the uncertainty surrounding Fashion Week last season, Andrew opted to also showcase the collection in technicolour through a short film by director Luca Guadagnino, who similarly shared the same obsession as he's previously referenced a lot of Hitchcock in his work.

They joined forces to showcase a coveted collection for Spring, one that told a colourful story for both men and women. Featuring vibrant hues and an enigmatic sophistication, the collection was a marriage of unique artisan techniques and technical innovations.
On the accessories front – of which Andrew already excels at – this season's must-haves included square-toed slingbacks and two reimagined versions of the F-wedge. For handbags, the collection saw the introduction of a newly sized and accessorised iteration of the Studio bag, a newly top-handled Trifolio, and a new bag shape that got its inspiration from a key scene in Hitchcock's Marnie.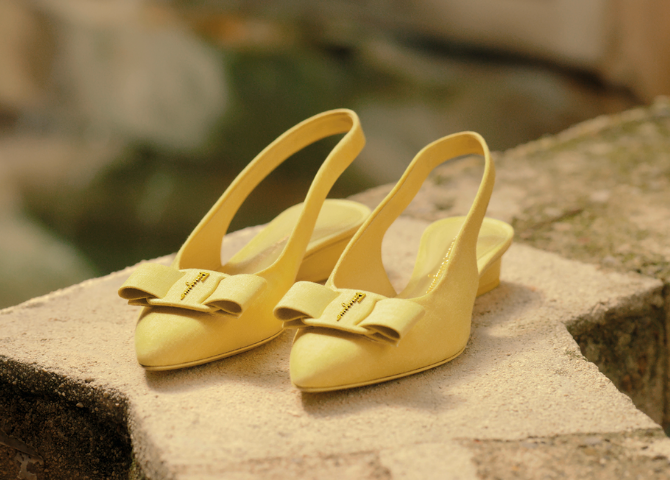 Also, discover Salvatore Ferragamo's Viva Bow Bag.