Eating indoors, (hopefully) less rain, two bank holidays. May is a month of celebrations, indulgence and R&R – makes sense, it is Taurus season, after all. In fashionville it's cruise season, baby! (or resort, travel, pre-season: pick your fashion proverb fighter). Whatever the lexicon, these mid-season collections are really all about celebrating wanderlust fashion. Location is everything. This season Chanel transported us to Carrières de Lumières (an immersive art centre in Les Baux-de-Provence in the South of France). From the cinematic inspiration to standout soundtrack, here's everything you need to know.
THE NOSTALGIC INSPIRATION
This season, multidisciplinary artist Jean Cocteau, a friend of Gabrielle Chanel, was the main source of inspiration for Virginie Viard, who recently discovered, how close they were. (Chanel made costumes for Cocteau's theatre pieces, and he was a frequent guest at her Rue Cambon apartment and called her "my dear Coco" in his letters). The location, Provence's most popular tourist attractions, Carrières de Lumières, was where Cocteau filmed his last experimental movie Testament of Orpheus (1960). "I love the film, in particular this magnificent scene: a man with a black horse's head descends into the Carrières de Lumières, his silhouette cut out against the very white walls," said Viard, who has re-watched the movie, starring Pablo Picasso, Jean Marais, Françoise Sagan and Jean Cocteau himself many- times. "The simplicity, the precision and the poetry of the film made me want to create a very clean collection, with a very distinct two-tone, made up of bright white and deep black," she continued. The collection was highly graphic (with star, flower and dove prints reminiscent of Cocteau's colourful drawings), and though it was mainly monochrome sartorial affair, there were some touches of colour, used for the signature tweeds (made by Lesage couture ateliers).
THE GLAMOUR
Miniskirts with fringes, fishnet tights, chunky chains, and studded leather suits: the collection was awash with punk codes, styled with pointed two-tone Mary-Janes and 1960s-style white ankle boots. "Echoing the extreme modernity of Cocteau's film, I wanted something quite rock. Lots of fringes, in leather, beads and sequins, t-shirts bearing the face of the model Lola Nicon like a rockstar, worn with tweed suits trimmed with wide braids, and pointed silver Mary-Janes. A look that recalls as much the modernity of the sixties as that of punk…" mused Virginie Viard in her show notes.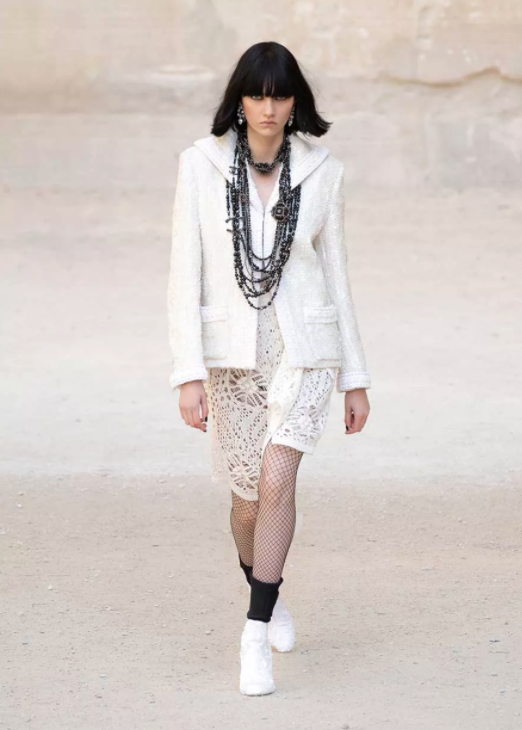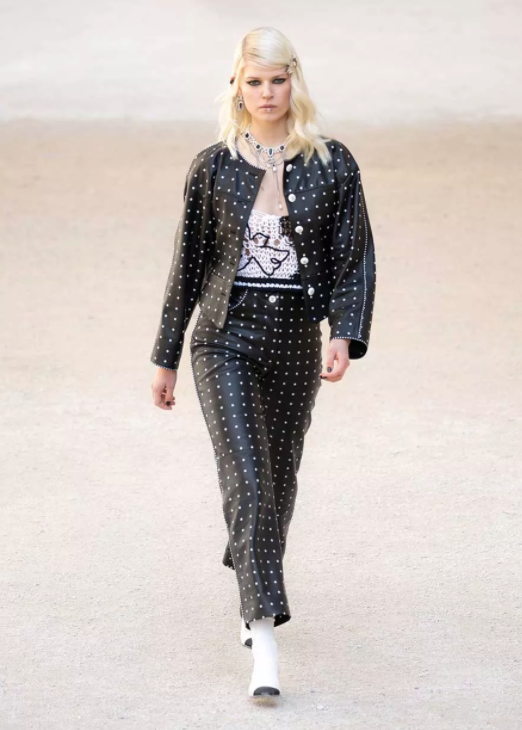 THE BEAUTY
Logomania face jewellery: it's a thing now. One of the highlights of the show, apart from the resplendent garms, was sightings of CC lip piercings (faux, of course), an homage to the late Chanel muse, Stella Tennant, who famously had a septum piercing.
THE MUSIC
Traditionally, Cruise shows always finish off with a concert and a party. And though, this season, for obvious reasons, guests attended the event virtually, at the end of the show there was a musical surprise in the form of a live gig by French musician and songwriter Sébastian Tellier. He was later joined on stage by the brand's music clan: Vanessa Paradis sang a cover for Bobby Hebb's Sunny, Belgian songwriter Angèle performed a cover of Britney Spears' hit Baby One More Time. Other performances included Tellier's duets with French musician and songwriter, famous for her jazzy piano gigs, Juliette Armanet and Monegasque Princess Charlotte Casiraghi. 'Twas a fashion night to remember.