When the Hermès Carré Club made a stopover in Dubai earlier this year, we had the chance to speak to three of the events' leading creatives...
Earlier this year, the latest stretch of the Hermès Carré Club global tour made its pitstop in Dubai following its presence in New York, Paris, Milan and Singapore. Its famous silk square, the carré, first introduced in 1937 got its major spotlight at Concrete, Alserkal Avenue in Dubai as the pop-up experience celebrated the art and legacy of the scarf, alongside a plethora of activations and installations that showcased artists' stories and savoir-faire up-close and in action. It was truly a playground of fantasy and freedom. 

Luckily for us, we were able to speak to the master of Hermès silk, Christophe Goineau, to discuss how he has since continued to uphold Hermès' spirit of innovation since joining the Maison, of which in 2011, was appointed Creative Director of Men's Silks. He also shares his thoughts on the unique marriage of art, craft and culture, and the most surprising way he's seen someone wear an Hermès scarf. 
How did Hermès Carré Club start and what is the main goal the Maison wishes to achieve with this interactive installation?

It all started because we wanted to talk about, not only the know-how, but the design and the story behind all of our scarves. Behind every single scarf, there is a story, and there is also a human being. This is something that we wanted to celebrate. We wanted to talk about the joy behind the scarves and the different possibilities of styling them.
Hermès is a Maison built on traditions. How do you continue to uphold the spirit of innovation whilst still modernising the men's silk collections?

I like to have a look at our archives because we have beautiful archives and whenever I see our scarves, very often I see that there has been a lot of innovation.

Evolution is central: at Hermès we are gently constantly evolving every six months. Evolution is an adaptation of the past to make it contemporary; there is, in this idea, great respect for the past and the magnificent heritage of the house. We like to say we prefer evolution rather than revolution. My goal is to embrace modernity.

Today, I think we have managed to modernise Hermès silk while still keeping in touch with our past. I have been with the house for over 30 years now and I can say with certainty that the best parts of working at Hermès, especially in my current role, is the freedom of creation we are given. This is a value of the house that has not changed since I arrived, along with the constant search for the highest quality of materials.

What does traditional mean to you?

"Traditional" means having respect for the past, and I believe that the present and even the future is made with elements of the past. And so, to be faithful to the past is to look at it and rewrite it.

When you are working for a house like Hermès, you realise that in the present, you are working with the past. That really works in several ways, because what we are doing now will also affect and inspire things in the future. We always try to mix the past, present and future together. That is connected to the fact that the object is very well done, that you can keep it for a while. You are not buying it for one season – this is faithful to what was being done before, and it is all connected.

Hermès is a Maison that proudly works with a plethora of artists. What values do you look for in an artist?

Every single scarf is a meeting – it's a meeting between the artist and Hermès. What the artists need to understand is that they have to bring their own universe to us. We have to share the same values in the details and hard work. The artist then needs to bring something new, something fresh, something that we haven't done before, and something that will enrich the universe of Hermès. This is always what I'm looking for.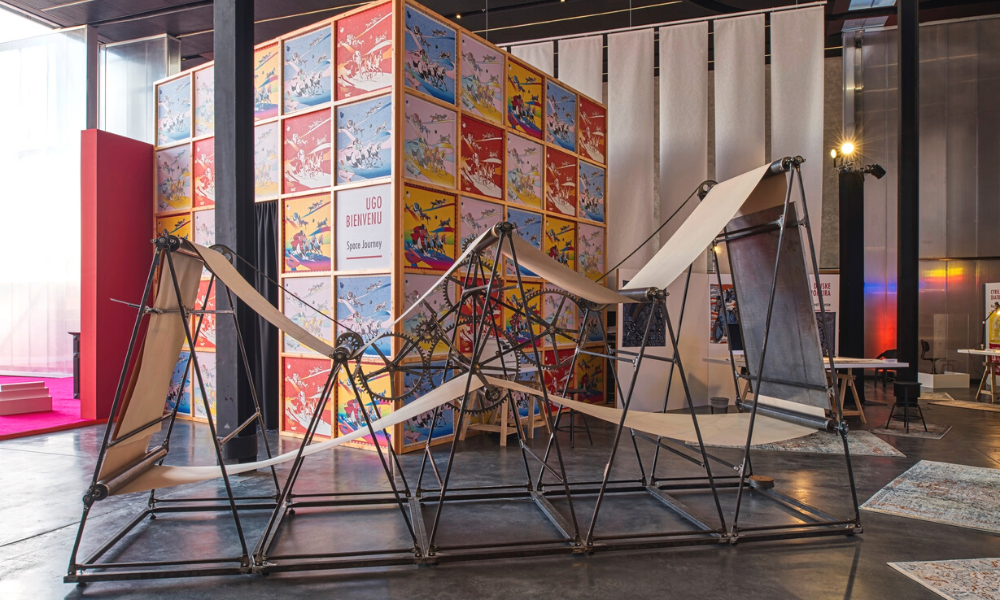 How has men's silk and ties changed and evolved during your time at Hermès?

I joined the company in the late 80s and, back in those days, the tie was mandatory and formal. These days, the tie has become a colourful accessory that shows the playful and joyful side of the man wearing it. It was the start of a long story of humour, soul and colours.

Wearing a tie today is a voluntary act, it's no longer a duty. This changes the way the accessory is worn. Men can now enjoy wearing them! We are in the realm of pleasure, and our customers are looking for colours, shapes and materials, designs closer to their desires, their hobbies, their passions and their mood...paradoxically, we are in a period of freedom for the tie. We are at an interesting point in time that is highly creative and with no limits. Ties can be fun, formal, elegant, or bring a touch of colour. It is the only accessory that is able to be so versatile. A men's tie or scarf is one of the most important pieces in the men's wardrobe – they are worn right at the centre of the body so are the most visible element of an outfit.

Are there any rules to wearing printed ties and scarves?

Sometimes people may be reluctant to wear a colourful scarf and men may sometimes be unsure of what they like. I would recommend starting with removing the ones [ties or scarves] you don't like – whether it be the colour or design – and then, something you do like will eventually appear and you'll start to wear it and feel comfortable wearing it. The only way to wear a scarf or any Hermès accessory is to be comfortable. You have to feel better with than without it – and that's the rule.

When I joined the company, there were some fashion rules to follow. My father would say to me: "Don't wear striped ties with a striped shirt" or "Don't wear dots with squares". Now it's more about pleasure and the freedom to wear whatever you feel like, choosing something closer to your own mindset and soul. We don't have rules anymore.

What is the most surprising way you've seen someone wear a Hermès scarf?

I've seen the American artist A$AP Nast wear our scarf and I was quite happy with that. What I love is when people reveal their own personality through the Maison's silk collections.
Hermès has a long-standing tradition of working with contemporary artists to design the iconic Carré scarves and at the Carré Club, visitors had the chance to meet the artists and watch them work on their art in real-time. We came across a scarf being transformed by designer Gianpaolo Pagni and his stamps, entered Daiske Nomura's artistic universe, virtually immersed ourselves into the world of Ugo Bienvenu and sat for a portrait done by Cyrille Diatkine. 

Then, finally, we got to sit down with the drawing duet, Octave Marsal and Théo de Gueltzl – two artists with different technicalities that come together to create impressive designs for the Maison. 
How did your relationship with the Maison first come about?

Octave: It started in 2017 or 2018 with Christophe actually. We worked on a scarf that featured a horse motif, titled "Des Chevaux Sous Le Capot". It was the first design I did for Hermès and after, I went on to work with the women's universe where I introduced Théo, and we designed "À l'ombre des Pivoines".
This was our first '4-Hands' scarf for Hermès, and I think it was a really great exchange between me and Théo. Théo is really technical with a love for nature and the botanical while I focus more on the representation of architecture.
Théo: Our next '4-Hands' scarf came out in December as part of the new SS21 collection. It's inspired by the nature of the Amazon jungle. We started drawing in Brazil, in February 2018. We first started with a one-on-one scale, and it was inspired by nature over there. We were actually down there watching the plants and the trees, and all the different palm trees and smaller plants as well, and the animals.

In the beginning, it was actually titled Amazonia before the name changed to "Faubourg Tropical" because there is a wider range of subjects and now it represents more the primary forest.
Can you tell us a little bit more about the '4-Hands' concept?

Théo: I think it's quite particular for Octave and I because we are used to working together for a while and we draw right next to each other. Most of our styles are married pretty well – we have different inspirations, even though we use the same techniques of drawing.

How do you find a balance between both of your artistic skills?

Octave: It's a lot of discussions. For "À l'ombre des Pivoines", it was more obvious that Théo did the peonies and after, I added the architecture. "Faubourg Tropical" was way more complex because it featured the oldest Hermès store, and it was really about how we were going to deal with the nature coming in from the floor plan and the background. So, on this particular scarf, we fought a bit (laughs). It was really tough but it's a beautiful process.

How about the translation process from artwork to scarf?

Théo: It's not a process that we do ourselves. Once we hand in the drawing, it gets scanned. Then it's etched and from the etching, they separate all the different elements of the scarf so that each colour is one frame in the screen-printing process. And then it's printed.

Octave: The whole process takes approximately two years. We have around one year between the idea and the completed drawing, and then after we wait for another year for the making of the scarf. If we're lucky, it takes two years, but it can take longer.

Can you tell us about your experience being here at the Hermès Carré Club in Dubai?

Théo: It's nice to be here because we're discovering the works of different artists and get to see their techniques.

Octave: Hermès Carré Club is great because we get to meet other artists that work with the Maison. We really became friends and also there is a great connection and exchange between the different artists here. You always feel so impressed and it's unbelievable to discover all the scarves because they're all really particular. We're all very impressed by the technical level of the other artists that work with Hermès.
Now, discover Hermès' latest Autumn/Winter '21 collection. 
Related articles
Buro 24/7 Selection