Following the Golden Globes ceremony and the BAFTA nominations revealed earlier this week, it's safe to say awards season is well on its way. With the BAFTA Awards set to take place on February 2nd, the Oscars will be hosting its annual awards ceremony one week later on the 9th. And at a glance, it looks like the awards will be going hostless for its second consecutive year.
The annual Academy Awards first made the decision to go without a host in 2019. Comedian Kevin Hart was slated for the job but shortly after had to step down due to offensive tweets from years prior. This marked the first time the awards have gone without a host in 30 years.
In a simple tweet using emojis, the Academy revealed the news to the public.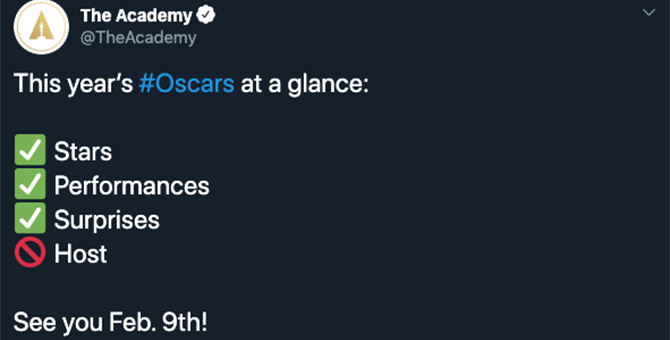 Whilst it's still unclear as to what we can expect from the ceremony next month, make sure to stay tuned to Buro. Middle East as Oscar nominees are slated to be revealed on January 13th.
Until then, find out who's been nominated for a BAFTA award.