There's no doubt that fine jewellery is one of the many facets of art. They are influenced by one another, and both share the creativity that is expressed in a way that stays true to their traditions and heritage. Take Van Cleef & Arpels for example. The Maison has long held a relationship with artists from around the world and has constantly expressed its dedication to creation, sharing and education. This Ramadan, it has collaborated with Alexandre Benjamin Navet, the winner of the 2017 Grand Prix Design Parade Toulon Van Cleef & Arpels.
For the celebratory Holy month of Ramadan, the French artist plays on explosions of vivid, luminous colours to reinterpret the Maison's cherished theme of nature, and to present dazzling jewellery pieces in a poetic interpretation of Ramadan nights. Unveiling different landscapes of the desert – think desert dunes and the shining moon – the collaboration will be in bloom at Van Cleef & Arpels' boutiques and will continue throughout the year with a large-format interior design concept.
Below, BURO. Middle East caught up with the artist to discuss his partnership with Van Cleef & Arpels, the use of new materials, the representation of a flower and the Middle East…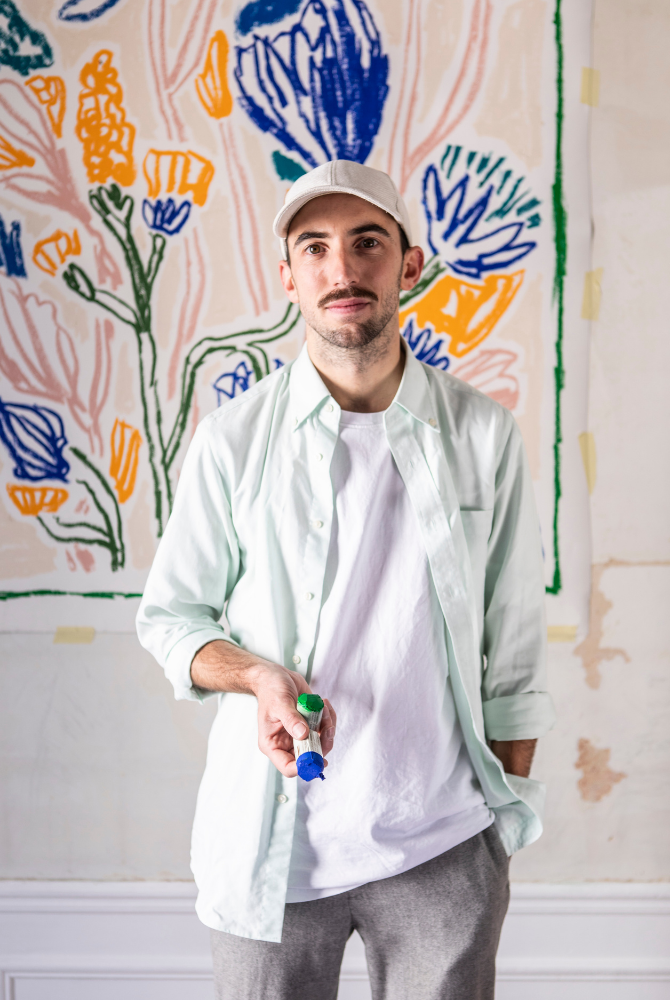 Can you tell us a little bit about how your relationship with Van Cleef & Arpels started?
Sure! I met with the Maison five years ago at a design contest, the Grand Prix Design Parade Toulon. It's an international contest about interior and architecture and I won the grand prize. Then, we decided to collaborate together and it all started with the main theme of the flower. Flowers are really important to Van Cleef & Arpels so I started by drawing flowers on sketchbooks and I went to the Maison for our first meeting and presented the drawings to them, and that's how we started our collaboration. This year is the second time we're teaming up together and we have something really special for Ramadan.
How different is this partnership with Van Cleef & Arpels in comparison to your previous collaboration?
Last time, the theme was worldwide but this time, we really made something specific in terms of colours, animations, and window displays – everything is very specific for the region. This is what changed a lot. The theme here is something we worked on specifically. It started with the flower of the desert.
Flowers and nature are such core elements of the Maison. You must've done a lot of research and looked through the archives during your collaboration. Was there anything in particular that stood out to you when looking at their rich history?
For each project, I start by looking at the archives, other projects of the Maison, the colours, and the palettes. It's really interesting for me to catch all of the information I can and for this collaboration, there are some beautiful high jewellery pieces that I love and I think we displayed them in all of the boutiques to show that I was really interested in this specific piece and it's full of colours. I always like looking at the archives, finding an idea and we see how we can create something together.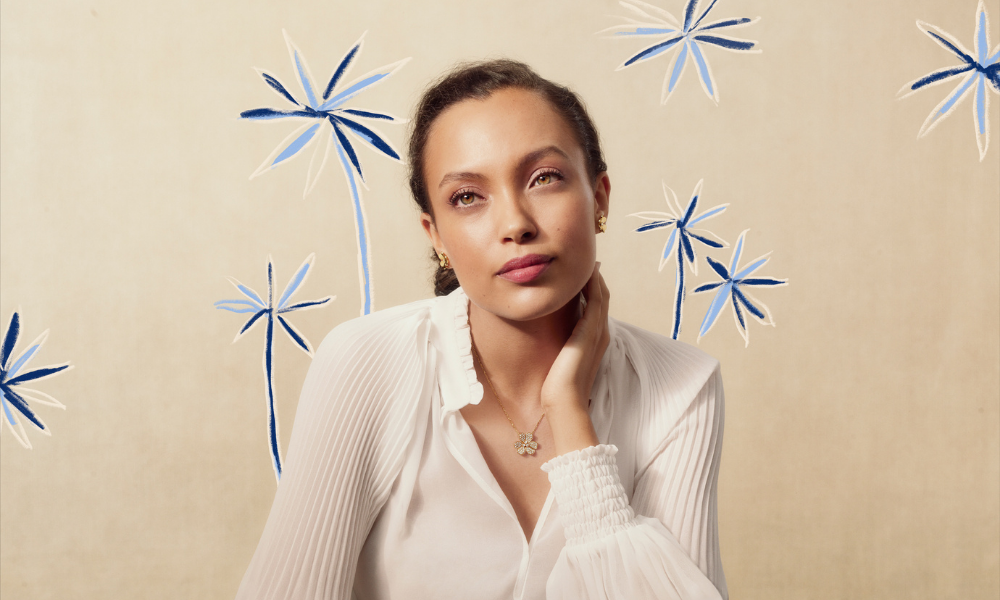 How long is the process from conception to completion?
It was a long process. It all started with drawings and then we try to see how we can express these ideas and out of all of this, the one goal I have is to share joy and surprises. For me, surprises create joy and that was really the idea. You come the day before and by the time you come at night, everything is in bloom.
You would draw plenty of vases without any flowers in them. How has this partnership with Van Cleef & Arpels changed your perception of drawing certain things in your personal work?
Thanks to Van Cleef & Arpels, yes I am drawing flowers! I never used to draw flowers before but vases, I did draw a lot. It was really interesting to connect. It was all about collaboration and dialogue, and nothing was imposed. Van Cleef & Arpels is well-known for their flowers, I've been drawing vases so now, we put the flowers on the vases and it's the beginning of our relationship. Now, my everyday drawings are filled with flowers and I'm not a botanical expert but I really love and enjoy drawing flowers.
What do flowers represent to you?
For me, flowers are all about Spring. It's about joy and the beautiful season that brings all of the colours around us.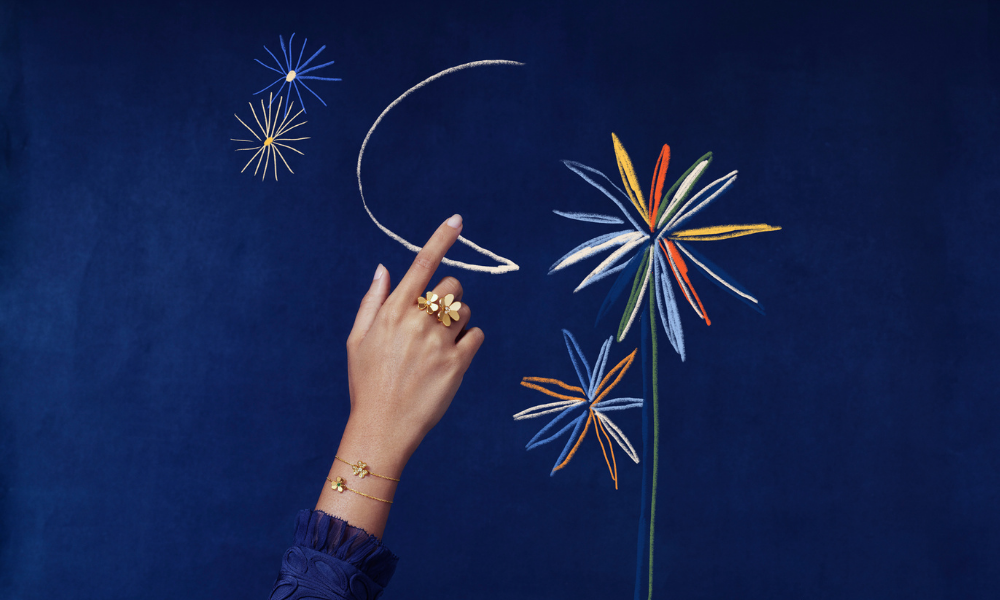 Speaking of colours, how do you think the colours you chose resonate with the Middle East?
For this collaboration, it's important to share that I used new media and new dry pastels. It's the first time that I used them and it's nice because it's a new way to express myself in this collaboration with Van Cleef & Arpels. It's also connected to sand and it's a different kind of drawing I make with this new technique and I'm glad that I'm able to do something new. With dry pastels, the colours are different. I love playing with strong and vivid colours and it was a conversation between my palette and the palette of the Maison. For the Middle East region, I was inspired by the beautiful nature and here, it's about the desert, the flowers and the palm trees for specific, we added some ochre, green and blue. There's a full range of blue in this collaboration to express the important moments of the season when the moon appears in the sky.
Other than exploring with a new medium, what would you say was the most challenging part of this collaboration?
As you know, it's very technical and I like this part also. It was really challenging to make a facade and apply a drawing to an architectural scale. It was something that I really wanted to experiment with the Maison and we did it. Perhaps the most challenging though is the technicalities.
What does Ramadan mean to you?
For me, Ramadan is something that connects the earth and the stars to us. So we decided to start with the palm tree and there are videos, animations and printed illustrations that show the moon, which is very important, and the palm trees represent stars. It makes nature look like it's blooming.
Also read: Van Cleef & Arpels launches shimmering Frivole creations.